What makes democracy in Australia different to other countries' democracies and ways of ruling?
Hi Melissa
Thanks for your excellent question!
Australia's system of government is a federation, a representative democracy and a constitutional monarchy.
While heavily influenced by the British and US systems of government, Australian democracy differs from other countries in several ways:
Australia was created peacefully when 6 British colonies voted to federate – join together – in 1901
Australia is the only English-speaking country where voting is compulsory
Australians vote for representatives in both the House of Representatives and the Senate
We use preferential voting to make sure the governments we elect have the support of the majority of voters
Did you know that another key feature of our democracy—the secret ballot—was invented in Australia? In fact it used to be called the Australian ballot!
More detailed information about the Australian system of government can be found on the Parliament of Australia website.
The Australian National flag and Commonwealth Coat of Arms on top of Australian Parliament House.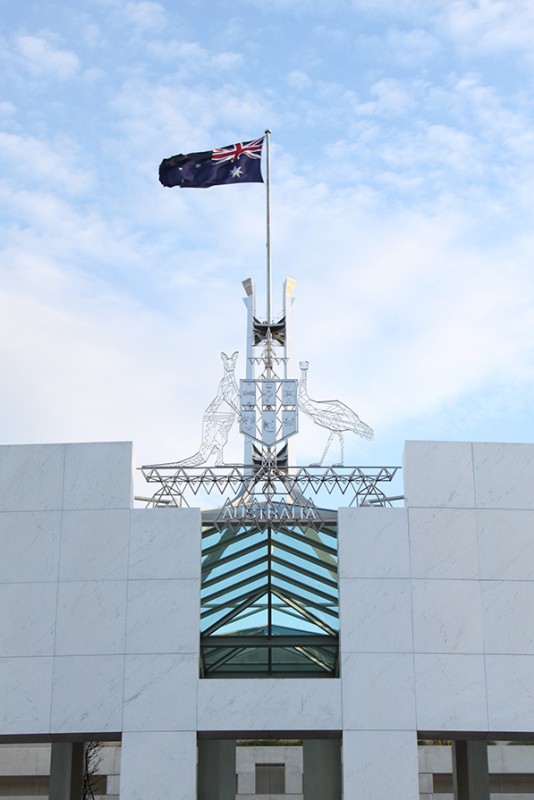 Parliamentary Education Office (peo.gov.au)
Description
This photograph shows the Commonwealth Coat of Arms and the Australian national flag on top of Australian Parliament House.
This work is licensed under a Creative Commons Attribution-NonCommercial-NoDerivs 3.0 Unported License.
You are free to share – to copy, distribute and transmit the work.
Attribution – you must attribute the work in the manner specified by the author or licensor (but not in any way that suggests that they endorse you or your use of the work).
Non-commercial – you may not use this work for commercial purposes.
No derivative works – you may not alter, transform, or build upon this work.
Waiver – any of the above conditions can be waived if you get permission from the copyright holder.