What are the three levels of government? What things do they share power?
The three levels of government is an important aspect of Australian governance, so thank you for the opportunity to explain it Jaiden. The three levels are:
the federal Parliament
state/territory parliaments
local councils/shires
The Australian Parliament makes laws about matters that affect all Australians, such as foreign affairs, defence and Medicare. State/territory parliaments are responsible for matters that affect people who live in that state or territory, such as hospitals, police and roads; and local councils and shires control local matters such as garbage collection and libraries.
However, state/territory and federal parliaments share responsibility for some matters. A good example is education. State/territory governments hire teachers and run schools but the Australian government prepares the national curriculum taught in schools. But what happens when a state/territory law and a federal law conflict? The Australian Constitution states that where state and federal law laws disagree the federal law must be followed. The Australian Parliament can overturn a territory law at any time.
Three levels of government in Australia.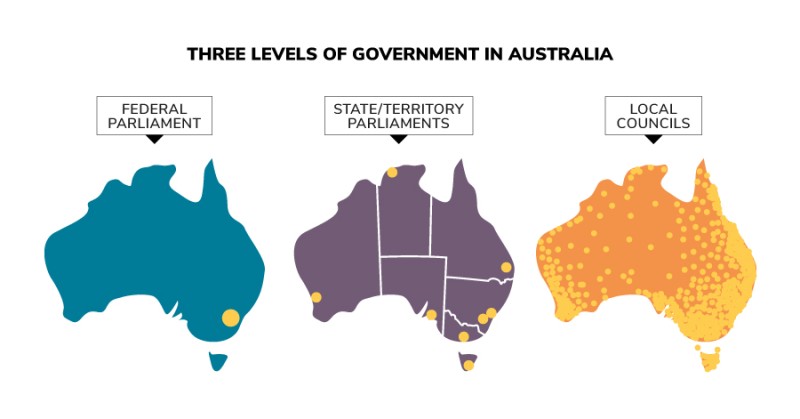 Parliamentary Education Office (peo.gov.au)
Description
This diagram illustrates the three levels of government—the law-making bodies in Australia with three maps of Australia: Local councils (located around Australia in each local council division); State/territory parliaments (located in the capital cities of each of the 6 states and 2 territories); and federal Parliament (located in Canberra, the nation's capital).
This work is licensed under a Creative Commons Attribution-NonCommercial-NoDerivs 3.0 Unported License.
You are free to share – to copy, distribute and transmit the work.
Attribution – you must attribute the work in the manner specified by the author or licensor (but not in any way that suggests that they endorse you or your use of the work).
Non-commercial – you may not use this work for commercial purposes.
No derivative works – you may not alter, transform, or build upon this work.
Waiver – any of the above conditions can be waived if you get permission from the copyright holder.