Standing orders
Investigate the function, use and history of standing orders – the rules used to manage the work of the Senate and the House of Representatives – with this fact sheet.
Along with the Australian Constitution and customs that have developed over many years, standing orders guide the way the Senate and House of Representatives operate each day.
Content and use of standing orders
Section 50 of the Constitution gives the Senate and House the power to make and change their own standing orders. The rules of both are similar but not the same. Each has over 200 standing orders, which include details about:
If a member of parliament disagrees with something that has happened in the Senate or House, they can call a 'point of order'. This means drawing a specific standing order to the attention of the Presiding Officer (or deputy), who chairs the meeting. The Presiding Officer then has to interpret the point of order, to decide if it is valid. The Clerk sometimes assists with this because they have a detailed knowledge of the standing orders.
Members of parliament can change a standing order at any time or suspend standing orders for a period of time by taking a vote in the Senate or House.
Sessional Orders
The Senate or House of Representatives may choose to adopt sessional orders – temporary rules. This allows members of parliament to experiment with new practices before deciding whether to make a permanent change to the rules.
History
When the Australian Parliament was established in 1901, temporary standing orders were adopted, largely based on rules which had governed colonial parliaments. Over the years, both the Senate and the House of Representatives have adopted permanent standing orders and have made regular changes to these.
Standing orders of the Senate and the House of Representatives.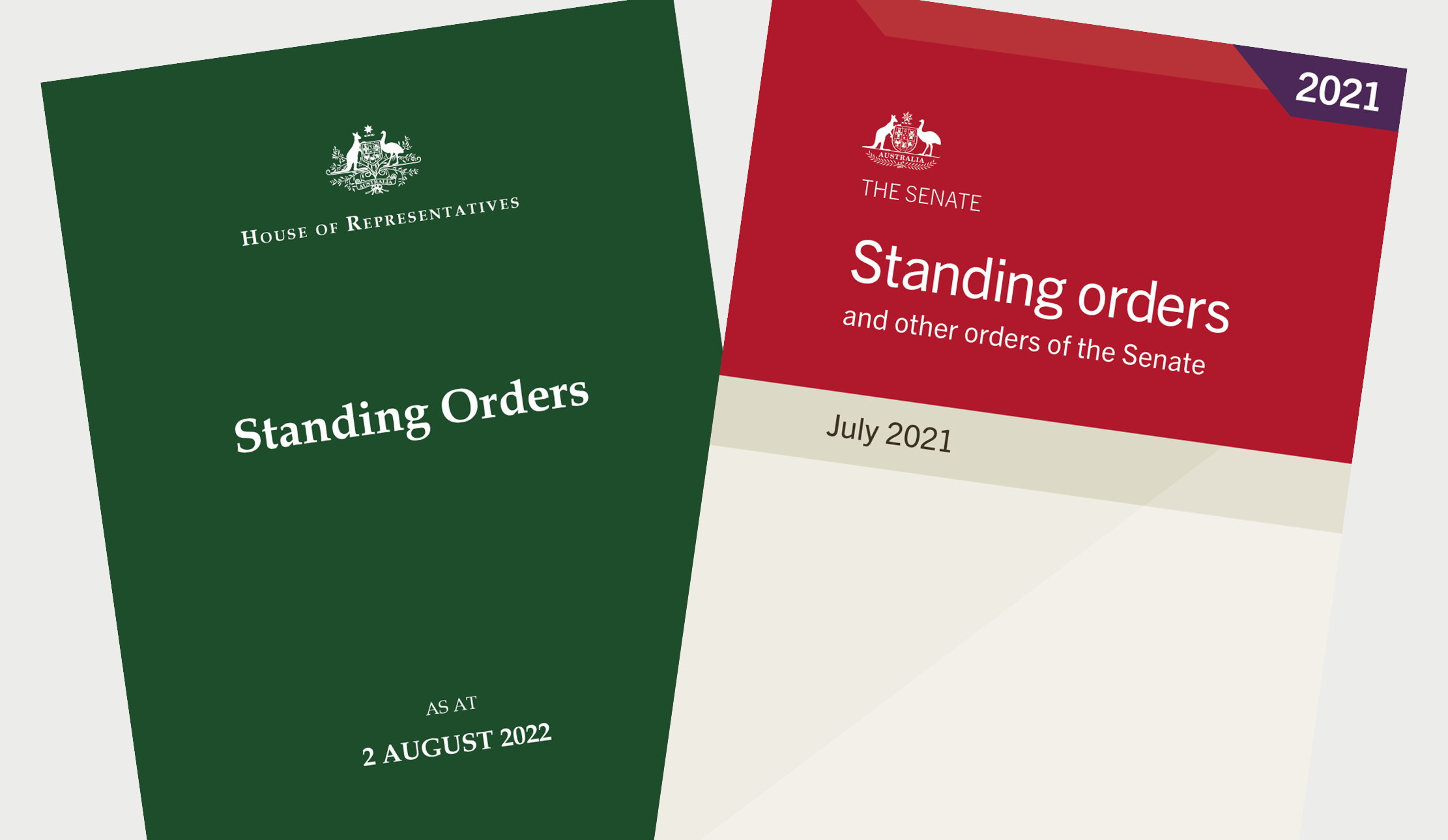 Parliamentary Education Office (peo.gov.au)
Description
This image shows the front covers of the Standing Orders of the Senate and the Standing Orders of the House of Representatives.
Copyright information
This work is licensed under a Creative Commons Attribution-NonCommercial-NoDerivs 3.0 Unported License.
You are free to share – to copy, distribute and transmit the work.
Attribution – you must attribute the work in the manner specified by the author or licensor (but not in any way that suggests that they endorse you or your use of the work).
Non-commercial – you may not use this work for commercial purposes.
No derivative works – you may not alter, transform, or build upon this work.
Waiver – any of the above conditions can be waived if you get permission from the copyright holder.