Why do Senators have longer terms than the terms of the members of the House of Representatives?
The terms of senators and members of the House of Representatives are set by the Australian Constitution. Section 7 gives state senators 6 year terms (with half the number of senators up for election every 3 years) and section 28 says members have terms of a maximum of 3 years. Territory senators have the same terms as members. This means that senators have a term that is double or—in the case of an early election for the House of Representatives—more than double that of members.
The drafters of the Australian Constitution were inspired by the United States Senate when deciding how our Senate would work. Six year terms and the rotation of senators in the Australian Senate were taken from the model of the United States Senate.
The difference in the terms of senators and members of House of Representatives reflects the differences between them. Senators represent the whole of their state, a much larger number of people than members of the House of Representatives. A 6 year term gives them more time work for the people they represent.
What do Senators do in Parliament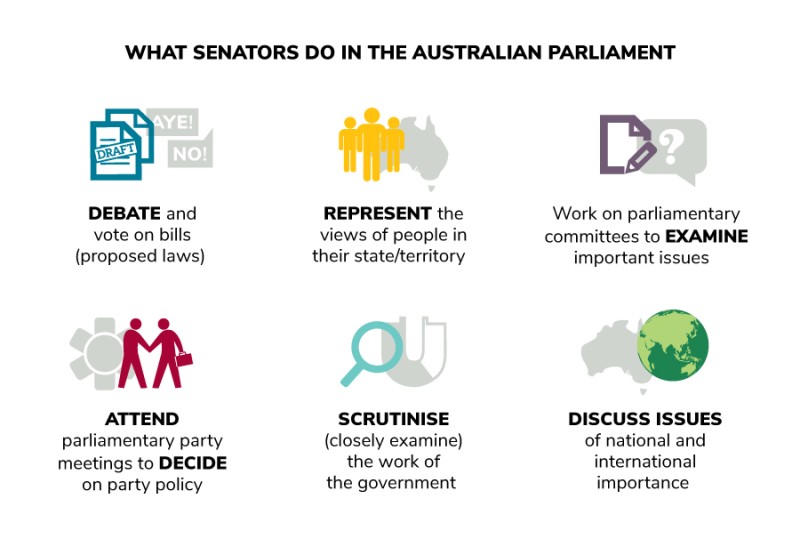 Parliamentary Education Office (peo.gov.au)
Description
This diagram illustrates what senators do in the Australian Parliament. Senators: debate and vote on bills (proposed laws); represent the views of people in their state/territory; work on parliamentary committees to examine important issues; attend parliamentary party meetings to decide on party policy; scrutinise—closely examine—the work of the government; and discuss issues of national and international importance.
This work is licensed under a Creative Commons Attribution-NonCommercial-NoDerivs 3.0 Unported License.
You are free to share – to copy, distribute and transmit the work.
Attribution – you must attribute the work in the manner specified by the author or licensor (but not in any way that suggests that they endorse you or your use of the work).
Non-commercial – you may not use this work for commercial purposes.
No derivative works – you may not alter, transform, or build upon this work.
Waiver – any of the above conditions can be waived if you get permission from the copyright holder.