How does the seating arrangement work in the House of Representatives? Can members sit anywhere apart from their own seats?
In the House of Representatives, the Speaker of the House of Representatives sits in the chair at the end of the House of Representatives facing the U-shaped seating. Government members sit on the right of the Speaker's chair with ministers on the front bench (first row). Opposition, independents and minor party members sit on the left of the Speaker's chair. Shadow ministers sit on the front bench on this side of the House. The Prime Minister and Leader of the Opposition sit facing each other at the table in the centre of the room. The Senate has the same seating arrangement, with government senators arranged on the right and opposition senators on the left of the President of the Senate's chair.
Frontbench and backbench members have assigned seats. When Parliament is meeting, members and senators sometimes move around to sit with other senators or members in order to speak privately with them. The chair next to the Prime Minister is reserved for the Deputy Prime Minister, but they usually sit on the front bench. This seat can be used if a member of the government needs to quickly share a message with the Prime Minister. The Opposition side has the same arrangement. During a division – a counted vote – or vote, senators and members might sit in a seat on the opposite side from where their allocated seat is located.
The House of Representatives.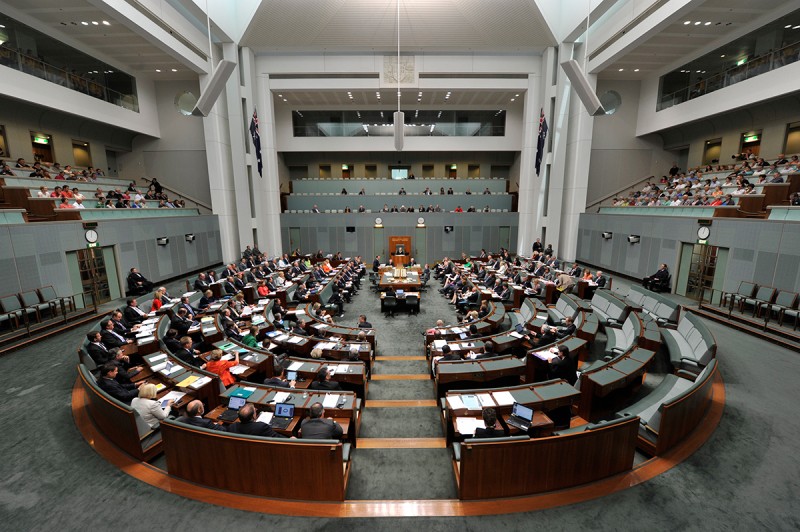 DPS Auspic
Description
This image is of a large room with green furnishings. The seats are arranged around a large central table. There is a large chair at the open end of the U-shaped seats that is elevated above the other chairs. There are people sitting in the seats and papers on the desks.
Permission should be sought from DPS AUSPIC for third-party or commercial uses of this image. To contact DPS AUSPIC email: auspic@aph.gov.au or phone: 02 6277 3342.