Has an MP been removed under 94B? How can a member be removed under this ruling?
Thanks for your question Jessica. Under Standing Order 94a, if a member of the House of Representatives behaves in a disorderly or offensive way, the Speaker of the House of Representatives can suspend them from the House for one hour. However, if the Speaker believes a member's behaviour requires stronger action, they can name the member under Standing Order 94b.
Once a member is named, the House votes on the motion – proposal – that the member be suspended from the House. In naming a member, the Speaker is asking the House to support them in maintaining order. The first time a member is named and suspended they are expelled from the House for 24 hours. This penalty increases with subsequent suspensions.
Standing order 94b is only used occasionally and in exceptional circumstances. In 2015 a member was named under Standing Order 94b for holding up a bottle of fuel which he then spilt during a speech in the Federation Chamber. It is against standing orders to bring props into the House. The following day the member was named by the Speaker in the House of Representatives and suspended for 24 hours.
The first recorded naming of a member occurred in the UK House of Commons in 1641. The first recorded use in the House of Representatives was on 21 November 1901. However the member apologised and the naming was withdrawn. Records show that on 18 August 1910 James Catts became the first member of the House to be named and suspended.
To find out more about Standing Order 94, check chapter 8 of Standing Orders and chapter 7 of the House of Representatives Guide to Procedures.
The Speaker of the House of Representatives.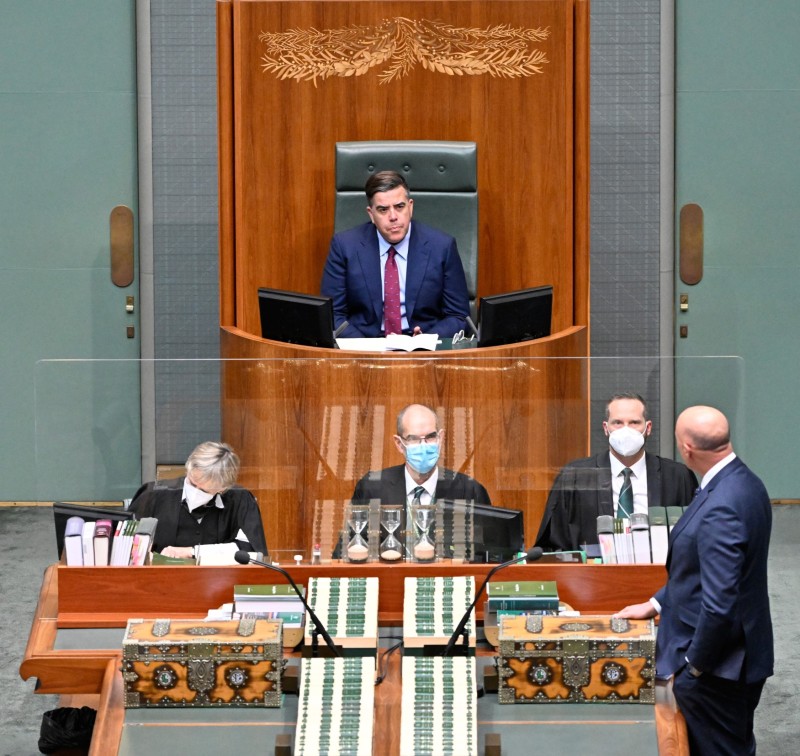 Penny Bradfield/DPS Auspic
Description
A man in a suit sits in a large green chair in front of a carved wooden screen. Three people in black robes and wearing face masks sit at a table below him. On the other side of a clear scressn there are books and boxes. A man in a suit stands at the table, resting his hand on one of the boxes.
Permission should be sought from DPS AUSPIC for third-party or commercial uses of this image. To contact DPS AUSPIC email: auspic@aph.gov.au or phone: 02 6277 3342.