Committees
Parliamentary committees investigate issues and proposed laws in detail so members of parliament are well-informed before making decisions. This fact sheet explores the membership, responsibilities and types of committees in the Australian Parliament.
One of the roles of the Australian Parliament is to make laws for the nation. However, there is often limited time to debate complex issues in detail in the parliamentary chambers. Members of parliament can vote to appoint a committee to take on this role. A committee may have weeks or even months to make a closer study of an issue.
Membership
Most members of parliament, except ministers, serve on parliamentary committees. These committees are usually made up of 6 to 10 government and non-government members of parliament. Committees may consist of senators or members of the House of Representatives, or may be established as joint committees which include members of both the House of Representatives and the Senate. One committee member is voted to be the chairperson who runs the committee proceedings. Each committee has a secretariat, which is a group of parliamentary employees who assist with running the hearings and writing a report to present to Parliament.
Procedure
When Parliament establishes a committee of inquiry, it decides on the terms of reference – the specific purpose of the inquiry. The committee invites written submissions from the community, experts and interest groups regarding the issue.
Committee members read the submissions and may invite selected people or groups to appear before the committee to provide further evidence or answer questions from committee members.
Committees take place at Parliament House, as well as in communities all across Australia.
Committee hearings are usually formal public meetings of Parliament. Hansard reporters record what is said. Submissions and hearings are published and available on the Parliament House website. The media often attend and report on proceedings. After the public hearings are finished, the committee writes a report which is formally presented to Parliament. Members of parliament may use evidence from a committee report to develop bills – proposed laws.
Types of committees
There are several types of committees:
Standing committees operate continuously and concentrate on examining bills and issues relating to particular subjects. For example, the House of Representatives Standing Committee on Employment, Education and Training examines bills and issues relating to these areas.
Select committees are set up by Parliament to examine specific issues. A minister may establish a select committee to investigate a policy issue. After a report is presented to Parliament, the committee disbands. For example, the Obesity Epidemic in Australia committee inquired into the impact on health care from the rise in obesity in Australia.
Estimates committees usually meet 3 times a year to examine how the government has spent Budget funds. The only witnesses who appear before an estimates committee are ministers and senior public servants in government departments.
Committees are an important part of the work of Parliament. They are a powerful way to bring Parliament to the people and allow for a greater variety of opinions to be heard.
A parliamentary committee in action at Australian Parliament House.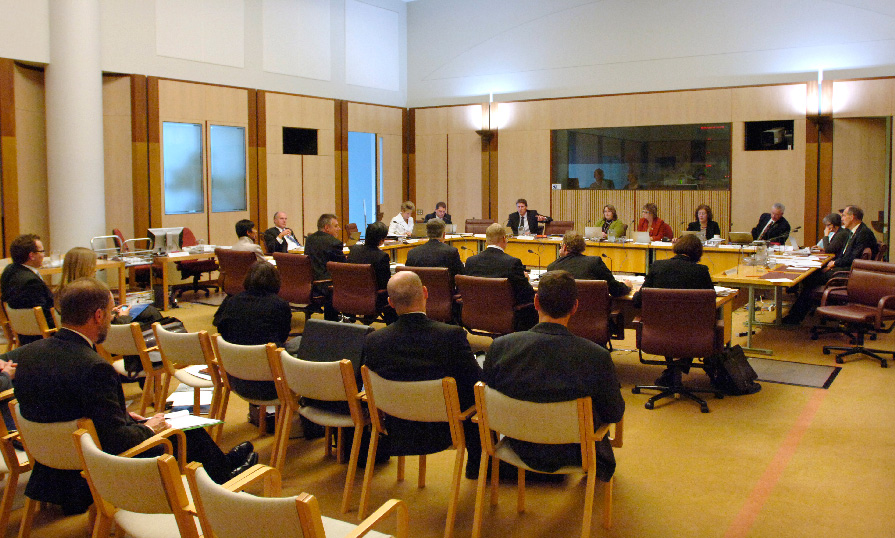 DPS Auspic
Description
This photo shows a group of people sitting at desks set up in a large rectangle. The people at desks each have a microphone and a stack of papers. There are people sitting in 2 rows of chairs set to the side of the rectangle of desks. These people appear to be watching what is happening at the desks.
Copyright information
Permission should be sought from DPS AUSPIC for third-party or commercial uses of this image. To contact DPS AUSPIC email: auspic@aph.gov.au or phone: 02 6277 3342.