Why was Whitlam sacked and not just a double dissolution called?
Thanks Tom, that is a very complex question! A number of events led to the dismissal of Prime Minister Gough Whitlam and his government. On 15 October 1975, the Leader of the Opposition, Malcolm Fraser announced the opposition would block the governments' supply or money bills in the Senate until an election was called. The opposition took this action because it believed the government was incompetent and the worst government in our history.
On 11 November, the Governor-General, Sir John Kerr decided the only way to break this deadlock was to use his reserve powers and dismiss Mr Whitlam and his government. It was the first time the Governor-General had removed from office a prime minister who had the support of a majority of members in the House of Representatives.
Sir John Kerr appointed Mr Fraser as caretaker Prime Minister on the condition that he guarantee the supply bills would pass the Senate and he would request a double dissolution election. The supply bills were passed that afternoon and Mr Fraser then asked the Governor-General to dissolve both houses of Parliament so a federal election could be held.
Mr Whitlam speaks on the steps of Old Parliament House, Canberra, after his dismissal.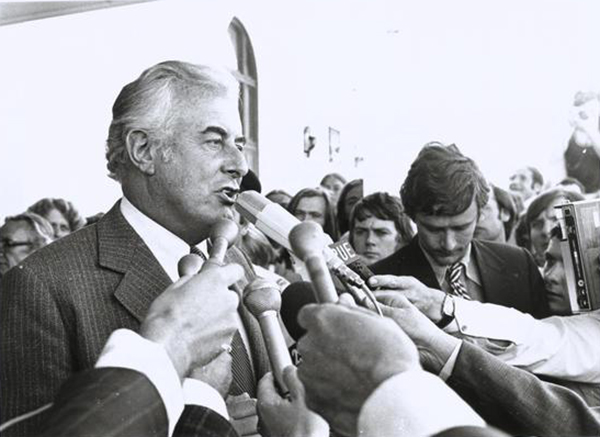 Australian Information Service, National Library of Australia, an 24355082
Description
This black and white photo shows former Prime Minister Gough Whitlam talking into a number of microphones. People crowd around him. He is standing on the steps of (Old) Parliament House.
You may save or print this image for research and study. If you wish to use it for any other purposes, you must declare your Intention to Publish.