Why is proportional representation considered to more closely reflect the voting pattern of the electors?
Calculating the quota for electing 6 state senators to the Australian Parliament.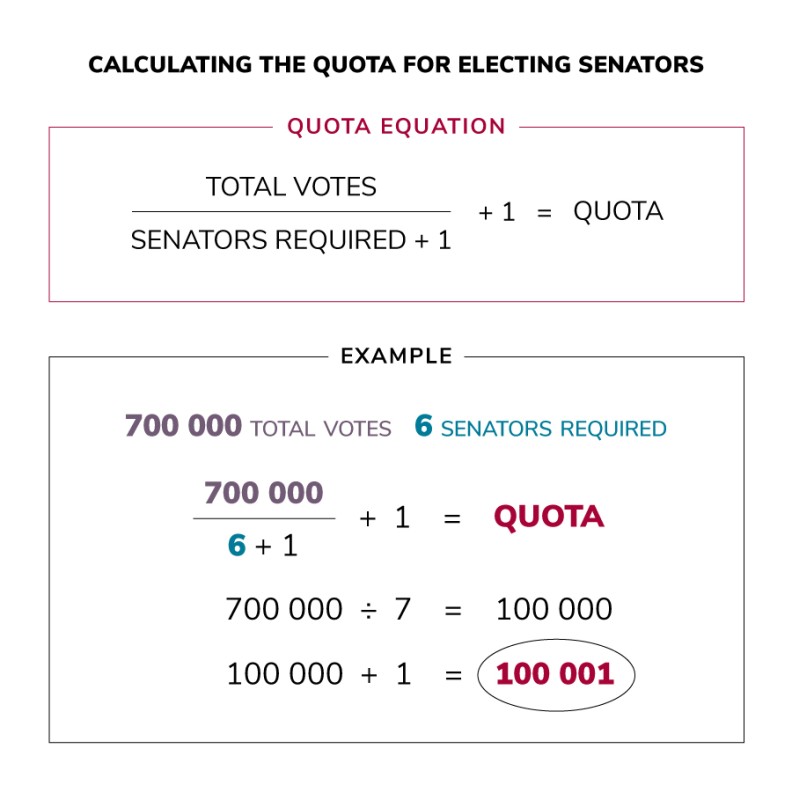 Parliamentary Education Office (peo.gov.au)
Description
This diagram is a visual description of how to calculate the quota for electing 6 state senators.
Senators required: 6. Total votes: 700 000 (for simplicity).
(700 000 ÷ 6 + 1) + 1 = Quota. 700 000 ÷ 7 = 100 000, 100 000 ÷ 1 = 100 001
Quota = 100 001
This work is licensed under a Creative Commons Attribution-NonCommercial-NoDerivs 3.0 Unported License.
You are free to share – to copy, distribute and transmit the work.
Attribution – you must attribute the work in the manner specified by the author or licensor (but not in any way that suggests that they endorse you or your use of the work).
Non-commercial – you may not use this work for commercial purposes.
No derivative works – you may not alter, transform, or build upon this work.
Waiver – any of the above conditions can be waived if you get permission from the copyright holder.
Thanks for your question, Justin. In the Australian Parliament, senators are elected using a system of proportional voting, designed to allocate seats to candidates in proportion to votes cast in an election. Proportional voting allows for a wider range of political parties and/or independents to be elected to the Senate, increasing the range of community viewpoints represented in the Parliament.
To win a seat, a senator must win a quota of first and later preferences. For a state senator at a half-Senate election, this equals 14.3% of the total state vote, while a territory senator must win 33.3% of the total territory vote. The counting procedure for a Senate election is more complicated than the system used for the House of Representatives it sometimes takes several weeks after an election to count all the Senate votes and finalise the result.