Why do members of parliament only have 4 minutes to get back to vote on a bill?
When members of parliament are required in the Senate or House of Representatives for a division – a counted vote – the bells ring for 4 minutes. This gives members time to get from wherever they are in Parliament House to either the Senate or House of Representatives in time to vote. If a second division is called straight after the first, the bells are rung again for only 1 minute.
Members of parliament (along with all other building occupants) are alerted to a vote being called by the bells and lights that sound and flash in the over 2700 clocks throughout the building. After the bells have finished ringing, the doors to the Senate or House are locked and all members who arrive after the doors are locked cannot vote in the division.
A clock at Parliament House.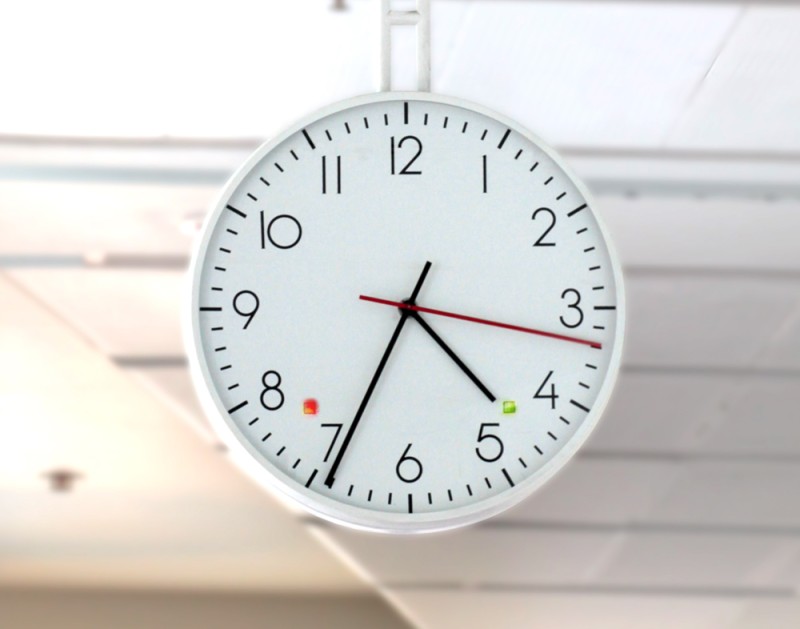 Parliamentary Education Office (peo.gov.au)
Description
This photograph of a clock at Parliament House shows the red and green lights that indicate that the Senate and the House of Representatives bells are ringing.
This work is licensed under a Creative Commons Attribution-NonCommercial-NoDerivs 3.0 Unported License.
You are free to share – to copy, distribute and transmit the work.
Attribution – you must attribute the work in the manner specified by the author or licensor (but not in any way that suggests that they endorse you or your use of the work).
Non-commercial – you may not use this work for commercial purposes.
No derivative works – you may not alter, transform, or build upon this work.
Waiver – any of the above conditions can be waived if you get permission from the copyright holder.