Why are petitions protected by parliamentary privilege?
Petition presented in the Senate calling for an end to live animal exports.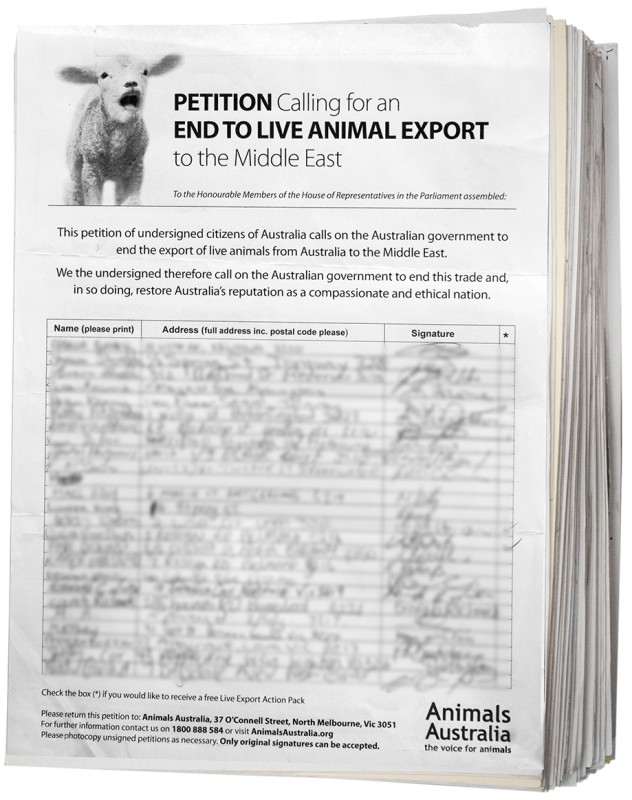 Department of the Senate
Description
This image focusses on the front page of a large number of pages. In the top left of the page is a photo of a bleating lamb. Next to this are the words 'PETITION Calling for END TO LIVE ANIMAL EXPORT to the Middle East'. Underneath, it says:
'to the Honourable Members of the House of Representative in the Parliament assembled. This petition of undersigned citizens of Australia calls on the Australian government to end the export of live animals from Australia to the Middle East. We the undersigned therefore call on the Australian government to end this trade and in doing, restore Australia's reputation as a compassionate and ethical nation.'
Below this is a table with the headings 'Name (please print)', 'Address (full address inc. postal code please)' and 'Signature'. The table is full of handwritten writing which has been blurred out for the photo. The bottom right of the page is 'Animals Australia, the voice for animals'.
Thank you for your question and the opportunity to explain parliamentary privilege.
Parliamentary privilege refers to the powers and immunities of the Senate and House of Representatives. These powers and immunities are covered by the Parliamentary Privileges Act 1987.
One of the key immunities is that those who participate in the 'proceedings in Parliament' are protected from outside interference or legal consequences. These proceedings include:
Words spoken or documents presented in the Houses
Written and spoken submissions to committees
Draft questions to ministers
Briefs prepared by government departments for their ministers to prepare for Question Time or Senate estimates
Petitions presented to the Senate and House are also part of parliamentary proceedings and are protected by parliamentary privilege. Before it can be presented, the rules for accepting petitions must be meet.
Parliamentary privilege means that Australian's communication with their Parliament via a petition is protected. We can put our ideas and complaints to Parliament without being stopped or with the risk of legal consequences. It also means the Parliament can debate the contents of petitions freely. Parliamentary privilege is an important part of free speech in Australia.