Who was involved in the first parliament?
Thank you for your question.
The first meeting of the Australian Parliament was a significant event in the history of Australia. It was officially opened by the Duke of Cornwall and York—representing King Edward VII—in a grand ceremony at the Exhibition Building in Melbourne on 9 May 1901. There were 12 000 guests along with Australia's first Governor-General—Lord Hopetoun—and the 111 senators and members of the House of Representatives.
The Department of the Senate has put together a great online exhibition about the first Australian Parliament. They looked at the biographies of all the first senators and members and found that:
57 were born in Australia (51%)
26 were born in England or Wales (23%)
17 were born in Scotland (15%)
7 were born in Ireland (6%)
1 was born in New Zealand
1 was born in Canada
1 was born in Chile
1 was born in the USA (but claimed to have been born in Canada)
Interestingly, in 1901 there was no Australian citizenship, so all those born in Australia were British subjects. Senators and members born in Britain or a British Dominion (Canada, New Zealand and Ireland) were able to sit in Parliament according to Section 44 of the Australian Constitution. If the members born in Chile and the USA were not British subjects, they were technically not able to sit in Parliament!
Opening of the First Parliament of the Commonwealth of Australia by H.R.H. The Duke of Cornwall and York (Later King George V), May 9, 1901.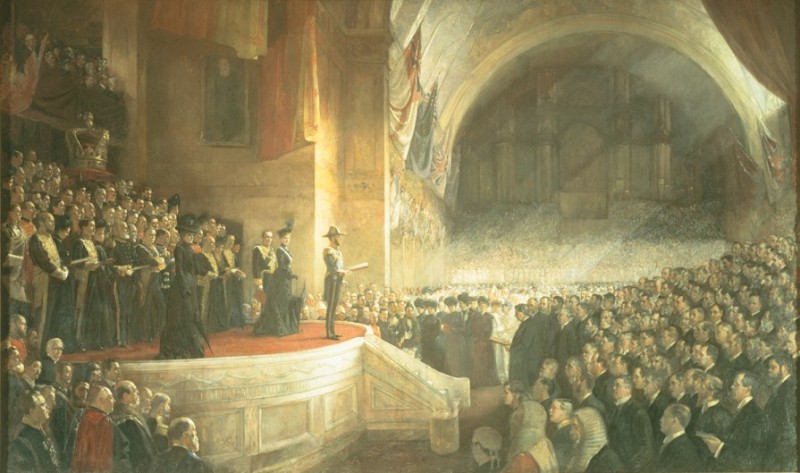 Parliament House Art Collection, Canberra, ACT and the Royal Collection Trust.
Description
Opening of Parliament image
Permission for publication must be sought from Parliament House Art Collection. Contact DPS Art Services, phone: 02 62775034 or 02 62775123