Who created Australia's Coat of Arms after the unification of the states and why? What do the symbols represent?
The Australian National flag and Commonwealth Coat of Arms on top of Australian Parliament House.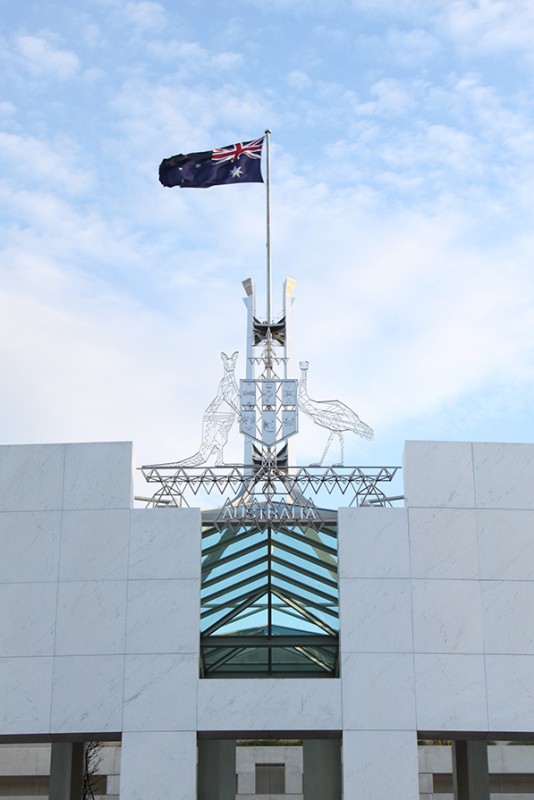 Parliamentary Education Office (peo.gov.au)
Description
This photograph shows the Commonwealth Coat of Arms and the Australian national flag on top of Australian Parliament House.
This work is licensed under a Creative Commons Attribution-NonCommercial-NoDerivs 3.0 Unported License.
You are free to share – to copy, distribute and transmit the work.
Attribution – you must attribute the work in the manner specified by the author or licensor (but not in any way that suggests that they endorse you or your use of the work).
Non-commercial – you may not use this work for commercial purposes.
No derivative works – you may not alter, transform, or build upon this work.
Waiver – any of the above conditions can be waived if you get permission from the copyright holder.
Thank you for the question. Australia's current Coat of Arms was adopted in 1912. There is a story that the design of the emu and the kangaroo comes from a Croatian migrant who trademarked it as a logo for his vineyard.
There are many symbols included in the Coat of Arms.
There is a Coat of Arms on the front of Parliament House, which was designed by an artist named Robin Blau.