Who can fire the Prime Minister?
There are several ways a Prime Minister can lose their position. The Prime Minister would be replaced if:
their party or coalition of parties does not stay in government after a federal election
their party choses a new leader
they lose their seat in a federal election
the Governor-General dismisses the government because it no longer has the support of the majority of members in the House of Representatives
the Governor-General dismisses the Prime Minister because they have broken the law or due to another extreme circumstance.
The last example would require the Governor-General using their 'reserve powers'. These powers are not mentioned in the Constitution but come from the authority of the King who the Governor-General represents. The only guide to these powers is convention – tradition. This means there is debate about what these powers are.
The only time the Governor-General has dismissed a Prime Minister was on 11 November 1975 when Gough Whitlam was dismissed.
Mr Whitlam speaks on the steps of Old Parliament House, Canberra, after his dismissal.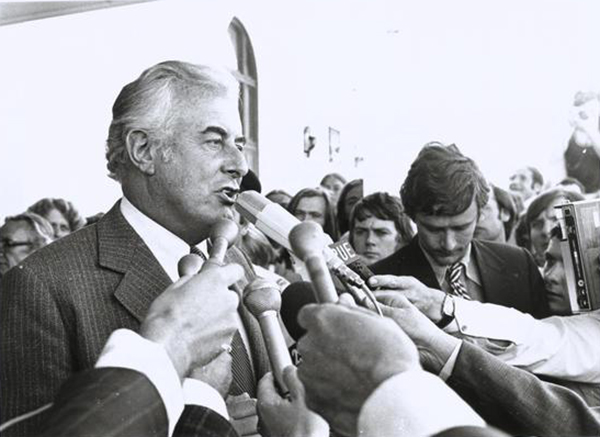 Australian Information Service, National Library of Australia, an 24355082
Description
This black and white photo shows former Prime Minister Gough Whitlam talking into a number of microphones. People crowd around him. He is standing on the steps of (Old) Parliament House.
You may save or print this image for research and study. If you wish to use it for any other purposes, you must declare your Intention to Publish.