Which people (jobs) are connected with each level of government?
Thanks for your interest in the three levels of government—an important part of how Australia is governed. The three levels are:
the federal – Australian – Parliament
state/territory parliaments
local councils/shires
Many people are involved in the work of each level of government. For example (note each state parliament has their own position titles):
Australian Parliament: Governor-General, Speaker of the House of Representatives, President of the Senate and the Serjeant-at-Arms
State/territory parliaments:

Speaker of the Legislative Assembly, Usher of the Black Rod and

Speaker of the Legislative Assembly
Local councils/shires: Mayor, Council President and councillors
Three levels of government in Australia.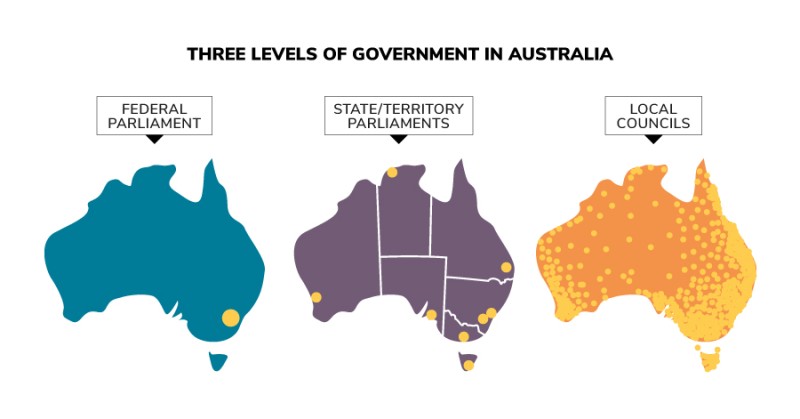 Parliamentary Education Office (peo.gov.au)
Description
This diagram illustrates the three levels of government—the law-making bodies in Australia with three maps of Australia: Local councils (located around Australia in each local council division); State/territory parliaments (located in the capital cities of each of the 6 states and 2 territories); and federal Parliament (located in Canberra, the nation's capital).
This work is licensed under a Creative Commons Attribution-NonCommercial-NoDerivs 3.0 Unported License.
You are free to share – to copy, distribute and transmit the work.
Attribution – you must attribute the work in the manner specified by the author or licensor (but not in any way that suggests that they endorse you or your use of the work).
Non-commercial – you may not use this work for commercial purposes.
No derivative works – you may not alter, transform, or build upon this work.
Waiver – any of the above conditions can be waived if you get permission from the copyright holder.