What is the Washminster system?
'Washminster' is sometime used to describe the Australian system of government because it combines elements of the British – Westminster – and United States (the capital of the United States is Washington DC) systems of government.
From the Westminster system we got:
Government formed and responsible to an elected house of parliament
Opposition members of parliament who scrutinise – closely examine – the government
A constitutional monarch who acts on the advice of the prime minister
From the United States system of government we got:
The names 'Senate' and 'House of Representatives'
Each state has the same number of representatives in the Senate
The number of members of the House of Representatives from each state is determined by the population of that state
The Australian system of government.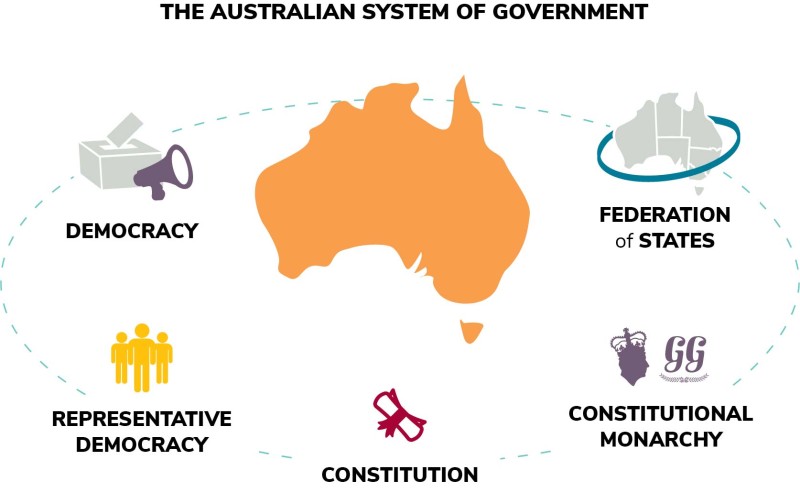 Parliamentary Education Office (PEO.GOV.AU)
Description
This graphic illustrates the 5 components of the Australian system of government:
democracy
representative democracy
consitution
constitutional monarchy
federation of states
This work is licensed under a Creative Commons Attribution-NonCommercial-NoDerivs 3.0 Unported License.
You are free to share – to copy, distribute and transmit the work.
Attribution – you must attribute the work in the manner specified by the author or licensor (but not in any way that suggests that they endorse you or your use of the work).
Non-commercial – you may not use this work for commercial purposes.
No derivative works – you may not alter, transform, or build upon this work.
Waiver – any of the above conditions can be waived if you get permission from the copyright holder.