What is the reasoning behind the Constitution's drafters decision to not allow money bills to originate from the Senate?
Role of the Senate.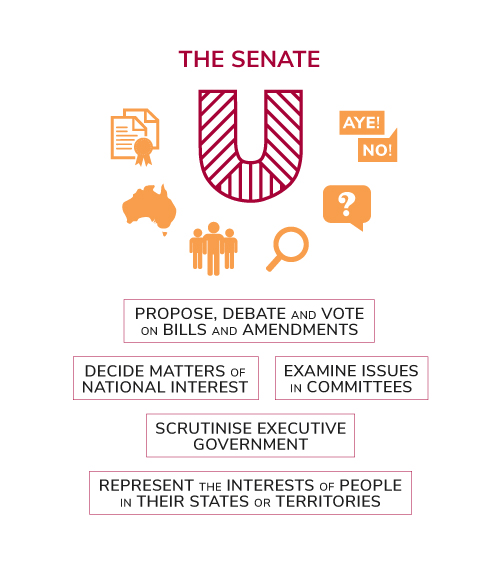 Parliamentary Education Office (peo.gov.au)
Description
This diagram illustrates the role of the Australian Senate. The Senate: decides matters of national interest; represents the interests of people in their states or territories; proposes, debates and votes on bills and amendments; examines issues in committees; and scrutinises—closely examines—executive government.
This work is licensed under a Creative Commons Attribution-NonCommercial-NoDerivs 3.0 Unported License.
You are free to share – to copy, distribute and transmit the work.
Attribution – you must attribute the work in the manner specified by the author or licensor (but not in any way that suggests that they endorse you or your use of the work).
Non-commercial – you may not use this work for commercial purposes.
No derivative works – you may not alter, transform, or build upon this work.
Waiver – any of the above conditions can be waived if you get permission from the copyright holder.
Section 53 of the Australian Constitution states that bills – proposed laws – which have to do with money cannot start nor be changed in the Senate. Bills to spend or collect money can only be introduced in the House of Representatives.
The UK Parliament is the origin of this rule and the House of Lords has similar limitations regarding money bills. This rule was important in the past to prevent the monarch from controlling how the people's money was spent.
In Australia, the same logic could be applied. It could be said that stopping the Senate from controlling public spending allows the people (represented by the House of Representatives) to control the money rather than the states (represented by the Senate).