What is the Oath or Affirmation for Ministers and how can it be changed?
Oaths and affirmations are formal vows or promises. An oath concludes with the phrase 'So help me God', while an affirmation does not reference religion. Ministers are required to take an oath or affirmation on 3 occasions.
Before ministers can be sworn-in by the Governor-General, they must first be sworn-in as a member of the Federal Executive Council. Section 62 of the Australian Constitution says there must be a swearing-in but doesn't say what the words of the oath or affirmation are. This is left up to the Governor-General, who administers the swearing-in for members of the Federal Executive Council.
After an Executive Councillor is sworn-in, they then take the oath or affirmation of office as a minister. This is not required by the Constitution or a law but by tradition it is always done. The Prime Minister decides what the oath or affirmation will be for their ministry. The Governor-General administers this to all ministers, assistant ministers and the Prime Minister.
Each minister must also be sworn-in as a member of the Australian Parliament. The words of this oath or affirmation are in the Constitution and can only be changed by the Australian people in a referendum. Section 64 of the Constitution says ministers can be sworn-in up to 3 months before they become a member of parliament. As a result, sometimes being sworn-in as a member of parliament is the last of the 3 oaths or affirmations taken.
The Governor-General swearing-in the prime minister.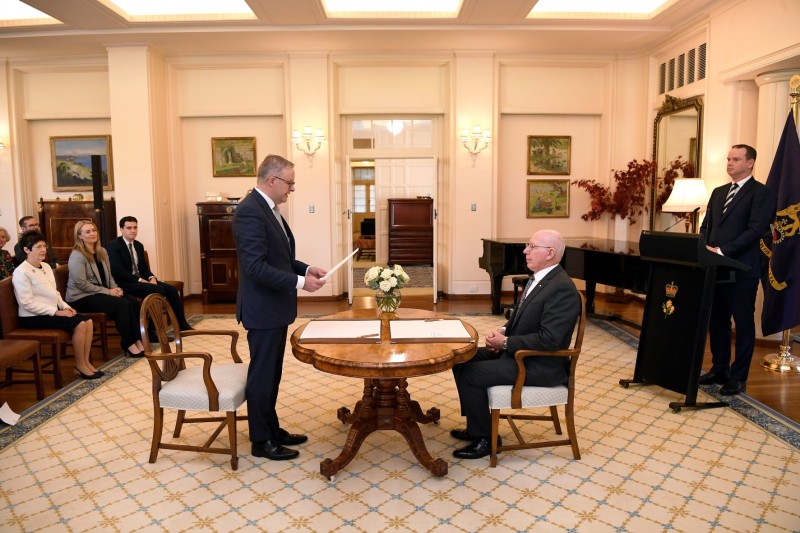 DPS Auspic
Description
Anthony Albanese is sworn in as the 31th prime minister of Australia by Governor-General David Hurley in May 2022.
Permission should be sought from DPS AUSPIC for third-party or commercial uses of this image. To contact DPS AUSPIC email: auspic@aph.gov.au or phone: 02 6277 3342.