What is a Dorothy Dix question? And what is she doing in Parliament?
Question Time in the House of Representatives.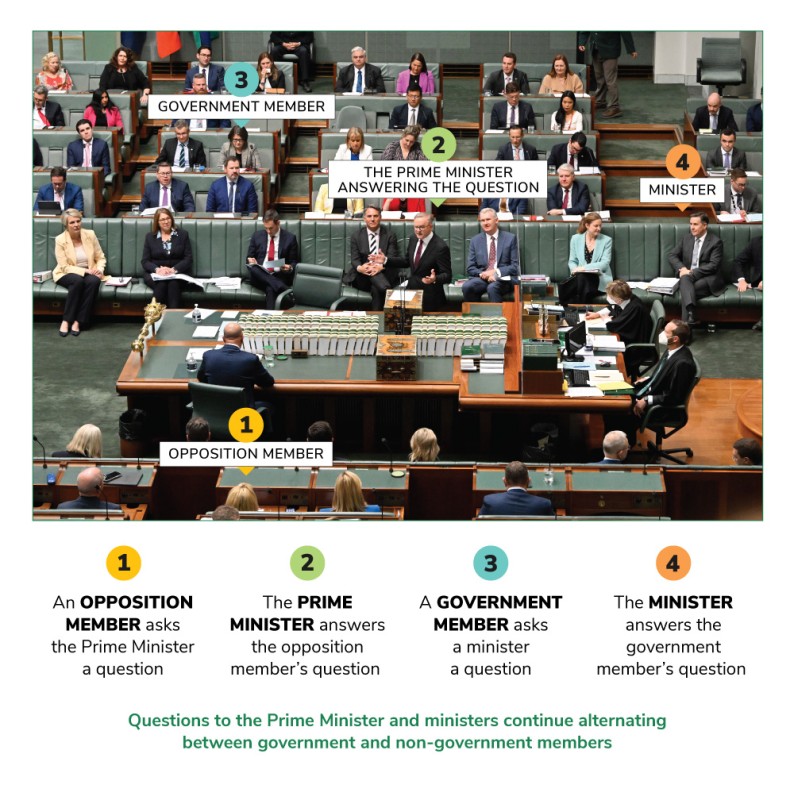 Parliamentary Education Office (peo.gov.au), DPS AUSPIC
Description
This image shows the main people involved in Question Time in the House of Representatives. In the centre there is a T-shaped table with the Leader of the Opposition sitting opposite the Prime Minister who is standing to speak. There are tiers of seating behind the Prime Minister with members of the government seated in them. Members of the opposition sit behind the Leader of the Opposition.
This work is licensed under a Creative Commons Attribution-NonCommercial-NoDerivs 3.0 Unported License.
You are free to share – to copy, distribute and transmit the work.
Attribution – you must attribute the work in the manner specified by the author or licensor (but not in any way that suggests that they endorse you or your use of the work).
Non-commercial – you may not use this work for commercial purposes.
No derivative works – you may not alter, transform, or build upon this work.
Waiver – any of the above conditions can be waived if you get permission from the copyright holder.
Thank you for your question, Cliff.
Dorothy Dix was a popular advice columnist who was rumoured to sometimes write the questions she answered. You won't find her in the Australian Parliament but a type of question asked during Question Time is named after her.
A 'Dorothy Dixer' is a question asked of a government minister by a government backbencher. Unlike questions asked by the opposition—which are intended to closely examine the work of the government—Dorothy Dixers are designed to highlight government policies and achievements.
Ministers know in advance that a Dorothy Dixer is going to be asked. This gives them time to prepare a response. Like the real Dorothy Dix, they may have even written the question themselves.