If the speaker wishes to raise an issue concerning their electorate how is this done?
Thank you for your thought-provoking question! As your question suggests, the Speaker of the House of Representatives is an elected member of the House of Representatives, who has their own electorate to represent. Like all members, the Speaker is responsible for raising issues of concern to their constituents – the voters in their electorate – ; however, the Speaker is also expected to be impartial and not participate in general debates in the House of Representatives.
There are still many other opportunities for the Speaker to raise constituent issues. The Speaker may write to a minister, phone a public servant or call into a minister's office in order to get assistance for an issue concerning their electorate.
Another avenue for raising electorate issues is during three minute constituency statements in the Federation Chamber of the House of Representatives. Each sitting day 30 minutes is put aside for members to raise matters concerning their electorate, and the Speaker, like all other members, may take part.
Business in the Federation Chamber is normally presided over by the Deputy Speaker, who can call upon the Speaker to make a statement.
It is unusual for Speakers to speak in the Federation Chamber; however, a previous Speaker, Ms Anna Burke MP, did take the opportunity in 2013 to raise issues concerning her electorate, noting; 'It is a rarity for a Speaker to be on their feet, but the one thing you do not give up on becoming Speaker is being the member for your electorate'.
The Speaker of the House of Representatives.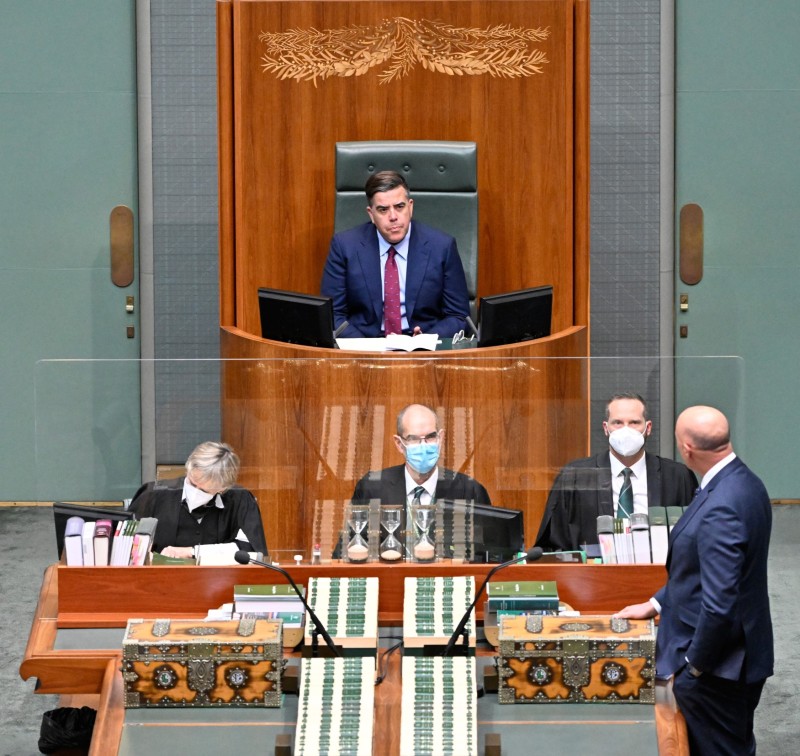 Penny Bradfield/DPS Auspic
Description
A man in a suit sits in a large green chair in front of a carved wooden screen. Three people in black robes and wearing face masks sit at a table below him. On the other side of a clear scressn there are books and boxes. A man in a suit stands at the table, resting his hand on one of the boxes.
Permission should be sought from DPS AUSPIC for third-party or commercial uses of this image. To contact DPS AUSPIC email: auspic@aph.gov.au or phone: 02 6277 3342.