I'd like to know what the customs and traditions are that Cabinet operates by and is there a 20 year public release rule?
Cabinet is the top-decision-making group in the Australian Government. Cabinet is not mentioned in the Australian Constitution; its operations are based on conventions – traditions.
Each government decides how Cabinet will operate. However, there are several traditions that are central to how Cabinet works:
Collective responsibility. Whatever the private views of ministers are, once a decision has been decided by Cabinet, all ministers take responsibility for the decision. This ensures that all members of the government are collectively accountable and responsible to the Australian Parliament.
Cabinet solidarity. All Cabinet ministers publicly support Cabinet decisions and the decisions of other ministers. They can only disagree publicly if they resign from Cabinet.
Cabinet confidentiality. Cabinet discussions are kept secret so ministers can speak freely about any issue. This allows ministers the freedom to explore different options. Cabinet documents are kept secret for 20 years, after which they are made available for the public to read.
The Cabinet in session.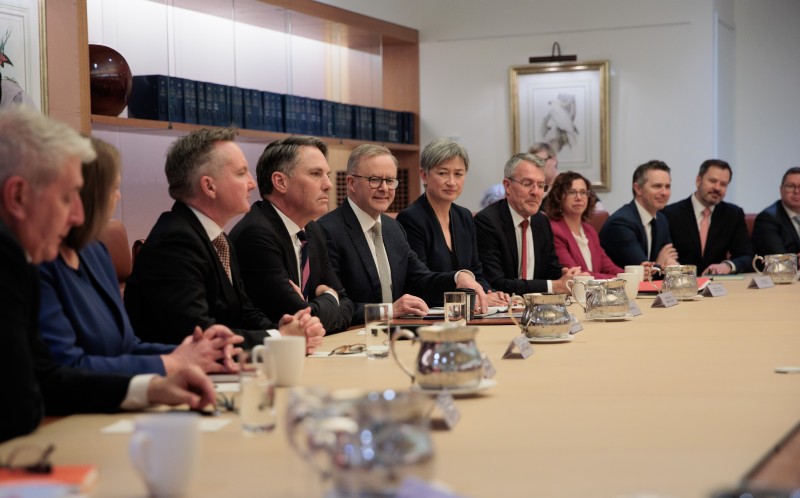 DPS Auspic
Description
A group of people sit on both sides of a wooden table. The men and women look towards the camera. It looks as if their meeting has been interrupted because there are papers and water glasses on the table.
Permission should be sought from DPS AUSPIC for third-party or commercial uses of this image. To contact DPS AUSPIC email: auspic@aph.gov.au or phone: 02 6277 3342.