How were electoral divisions created at the first election in 1901? What were they named after?
Ballot box graphic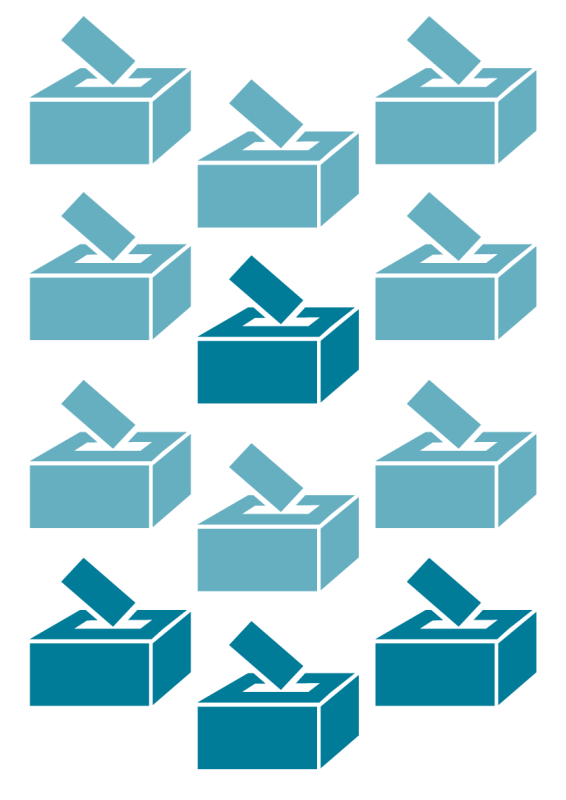 Parliamentary Education Office (peo.gov.au)
Description
This graphic is a representation of a ballots being placed into a ballot boxes.
This work is licensed under a Creative Commons Attribution-NonCommercial-NoDerivs 3.0 Unported License.
You are free to share – to copy, distribute and transmit the work.
Attribution – you must attribute the work in the manner specified by the author or licensor (but not in any way that suggests that they endorse you or your use of the work).
Non-commercial – you may not use this work for commercial purposes.
No derivative works – you may not alter, transform, or build upon this work.
Waiver – any of the above conditions can be waived if you get permission from the copyright holder.
Australia's first federal election was held on 29 and 30 March 1901, after Australia's federation on 1 January. There were no federal laws about how elections were run, including how the states would be divided into electorates or what they would be called. Section 29 of Australia's Constitution gave the state parliaments the power to determine their electorates before the federal parliament could meet to decide otherwise. While New South Wales, Victoria, Queensland and Western Australia passed laws to create electorates, Tasmania and South Australia didn't pass such legislation. Therefore, members of the House of Representatives from South Australia and Tasmania represented their entire state in the first Parliament. Some of the original electorates were named by the states after the geographical area they covered, e.g. Perth in Western Australia and North Sydney in New South Wales. Some were named after historical figures, like Flinders in Victoria and Kennedy in Queensland.
Today, the Australian Electoral Commission is responsible for determining electoral boundaries and naming electorates. There are guidelines around how electorates are named. Usually, they are named after notable deceased Australians, including Prime Ministers, or using Aboriginal and Torres Strait Islander words or names.