How much British legislation, if any, still applies to Australia either federally or at a state level? How does it get changed if it does still apply?
In very general terms, British legislation no longer applies to Australia either federally or at state level.
After the Statute of Westminster Adoption Act 1942, Australia was independent from Britain but the states were still subject to some aspects of British law. Despite the changes that had taken place at the national level since Federation, certain state bills still required the monarch's approval and they could disallow any state law within 2 years. States gave advice to the monarch through the British Foreign Minister, not an Australian minister.
The Australia Act 1986 (Commonwealth) was the final step in Australia's constitutional independence from Britain. This Act and the 6 similar Acts passed by the state parliaments, made all Australian law independent of the British Parliament and legal system. It also stopped appeals from state courts to the British Privy Council. Together with the Australia Act 1986 (UK), the 7 Acts brought the states in line with the Australian Government's relationship with Britain.
There may be remnants of British legislation that have been adopted as Australian law, either federally or at state level; however, the British Parliament has no jurisdiction over law as it applies in Australia. You would need to undertake a substantial research project to identify these laws.
Opening of the First Parliament of the Commonwealth of Australia by H.R.H. The Duke of Cornwall and York (Later King George V), May 9, 1901.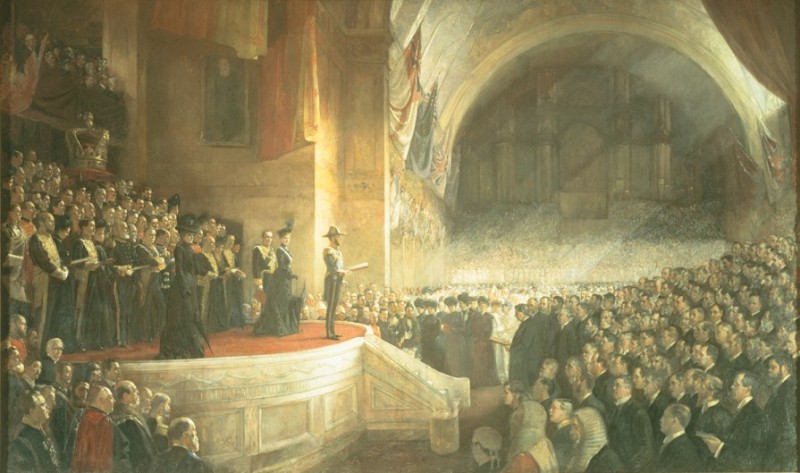 Parliament House Art Collection, Canberra, ACT and the Royal Collection Trust.
Description
Opening of Parliament image
Permission for publication must be sought from Parliament House Art Collection. Contact DPS Art Services, phone: 02 62775034 or 02 62775123