how has power shifted to the Australian Government from the states since federation?
Since Federation, power has shifted from the states to the Commonwealth – Australian Government – in several ways. The first is as a result of judgements made by the High Court of Australia. When making judgements about individual laws, the High Court sometimes makes decisions which increase the overall power of the Commonwealth. For example, in the Uniform tax case the High Court found the Commonwealth could collect income taxes (previously a state power). This has led to the Commonwealth having the ability to collect more money than the states.
Sections of the Australian Constitution have also been used to change the relationship between the Commonwealth and the states. Section 96 of the Constitution allows the Australian Parliament to 'grant financial assistance to any State on such terms and conditions as it thinks fit'. This allows the Australian Government to give 'tied' grants to state governments, directing the state government on how to spend the money. The Australian Government can then influence the management of areas such as education, health, housing and urban development, which are primarily state responsibilities.
The huge social and technological advances that have occurred since Federation have also changed the balance between the Commonwealth and the states. For example, the Constitution gives the Australian Parliament the power to make laws about 'postal, telegraphic, telephonic and other like services' (section 51 (v)). In 1901 there were only 33 000 telephones in Australia and no radio, television, computers or the internet. Now, of course, communications are a vital part of Australian society and a major responsibility of the Australian Government.
Three levels of government in Australia.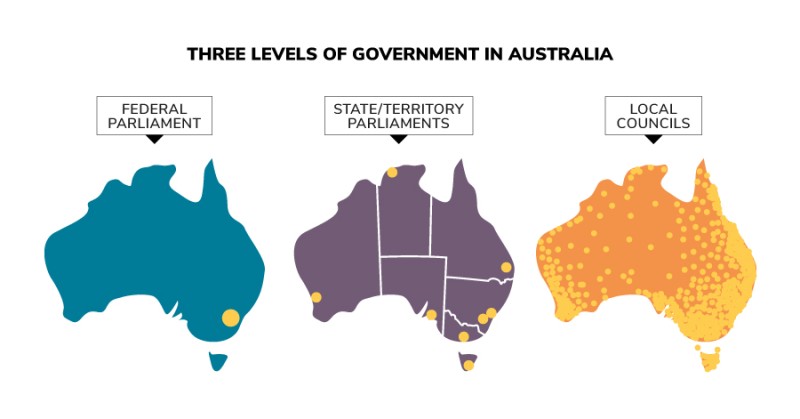 Parliamentary Education Office (peo.gov.au)
Description
This diagram illustrates the three levels of government—the law-making bodies in Australia with three maps of Australia: Local councils (located around Australia in each local council division); State/territory parliaments (located in the capital cities of each of the 6 states and 2 territories); and federal Parliament (located in Canberra, the nation's capital).
This work is licensed under a Creative Commons Attribution-NonCommercial-NoDerivs 3.0 Unported License.
You are free to share – to copy, distribute and transmit the work.
Attribution – you must attribute the work in the manner specified by the author or licensor (but not in any way that suggests that they endorse you or your use of the work).
Non-commercial – you may not use this work for commercial purposes.
No derivative works – you may not alter, transform, or build upon this work.
Waiver – any of the above conditions can be waived if you get permission from the copyright holder.