How do you become a Senator?
To become a senator you need to get elected by the voters in your state or territory at a federal election.
Senate electorates are multi-member, meaning there is a group of senators elected to look after the interests of all the people of a state or territory. This is different to the House of Representatives, where only one member is elected for each electorate .
Some of the other requirements to be a senator include:
being aged 18 years old or older
being an Australian citizen and not a citizen of any other country
being able to vote in House of Representatives elections
not serving a prison sentence of 12 months or more.
What do Senators do in Parliament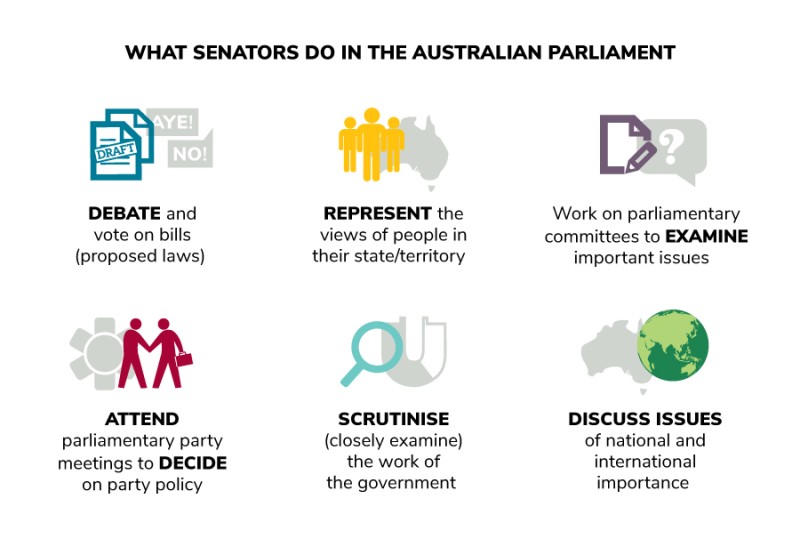 Parliamentary Education Office (peo.gov.au)
Description
This diagram illustrates what senators do in the Australian Parliament. Senators: debate and vote on bills (proposed laws); represent the views of people in their state/territory; work on parliamentary committees to examine important issues; attend parliamentary party meetings to decide on party policy; scrutinise—closely examine—the work of the government; and discuss issues of national and international importance.
This work is licensed under a Creative Commons Attribution-NonCommercial-NoDerivs 3.0 Unported License.
You are free to share – to copy, distribute and transmit the work.
Attribution – you must attribute the work in the manner specified by the author or licensor (but not in any way that suggests that they endorse you or your use of the work).
Non-commercial – you may not use this work for commercial purposes.
No derivative works – you may not alter, transform, or build upon this work.
Waiver – any of the above conditions can be waived if you get permission from the copyright holder.