Does each state need to abolish its governor in order for Australia to become a republic?
The short answer to this thoughtful question is 'no' but it raises some very interesting possibilities!
Australia is a federation of states governed according to the Australian Constitution. The Constitution provides states certain responsibilities and powers to deal with state matters. Each state has its own constitution, parliament and laws to govern within the state.
Every Australian state is also a constitutional monarchy with a governor who is the King's representative in that state. Unless a state changes its own constitution to become a republic, the existing arrangements remain in place in that state.
The issue then of state republics is distinct to that of the Commonwealth of Australia becoming a republic. Section 128 of the Australian Constitution allows for a direct vote of eligible Australians to change the Constitution and potentially replace the King and Governor-General with, for example, a president.
Should the Australian electorate vote in a referendum to make this change, it is possible - though unlikely - that Australia would become a republic, while the states and territories remain constitutional monarchies! Each state would ultimately need to decide if it also wanted to become a republic or retain its governor as the King's representative.
Australia's Constitution cover and sample pages.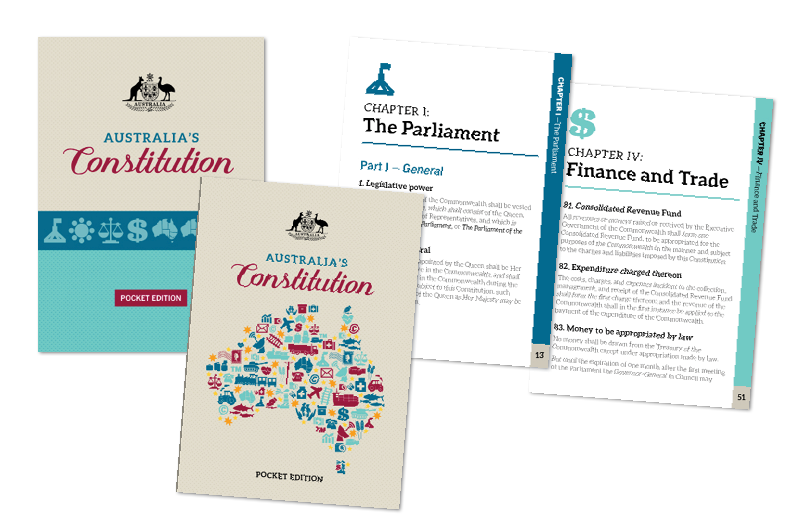 Parliamentary Education Office (peo.gov.au)
Description
This image shows the cover of Australia's Constitution with sample pages. The map of Australia on the cover is made up of icons demonstrating the Section 51 powers of the Australian Parliament.
This work is licensed under a Creative Commons Attribution-NonCommercial-NoDerivs 3.0 Unported License.
You are free to share – to copy, distribute and transmit the work.
Attribution – you must attribute the work in the manner specified by the author or licensor (but not in any way that suggests that they endorse you or your use of the work).
Non-commercial – you may not use this work for commercial purposes.
No derivative works – you may not alter, transform, or build upon this work.
Waiver – any of the above conditions can be waived if you get permission from the copyright holder.