Introducing ... Federation
Begin your exploration of Federation with this short introduction. Find out the arguments for Federation and the process that led to the creation of Australia.
On 1 January 1901, 6 separate British colonies—New South Wales, Queensland, South Australia, Tasmania, Victoria and Western Australia—joined together to form a new country—Australia. This is called Federation.
Children celebrating Federation, Melbourne 1901.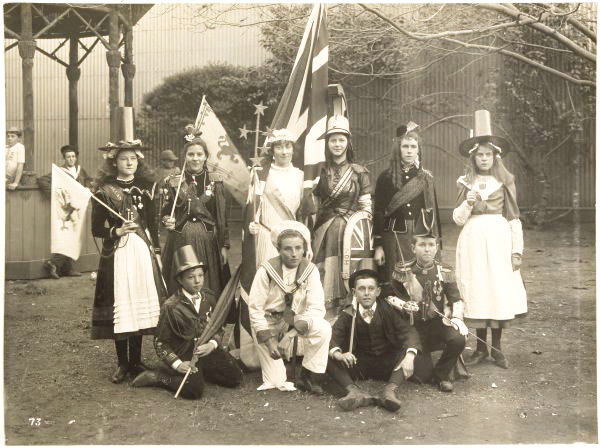 National Library of Australia, an13117280-22
Description
This black and white photo is of a group of older children in 1901. They are dressed in elaborate costumes to celebrate Australia's Federation. The costumes highlight Australia's British heritage. A large Union Jack is being held by one of the group.
Copyright information
You may save or print this image for research and study. If you wish to use it for any other purposes, you must declare your Intention to Publish.
Things you need to know
For at least 60 000 years Aboriginal and Torres Strait Islander people have lived on the land we now call Australia. Many different cultural groups continue to live on their land, and practice their culture and laws.
The British established 6 colonies, all of which had their own governments and laws. However, people had started thinking about themselves as 'Australians'.
Some people believed a national government would:

Increase trade by removing taxes on goods travelling between colonies.
Strengthen defence in case of an invasion.
Make stricter immigration rules.
Create a more democratic system of government that provided greater freedoms for citizens.
"Combine Australia!"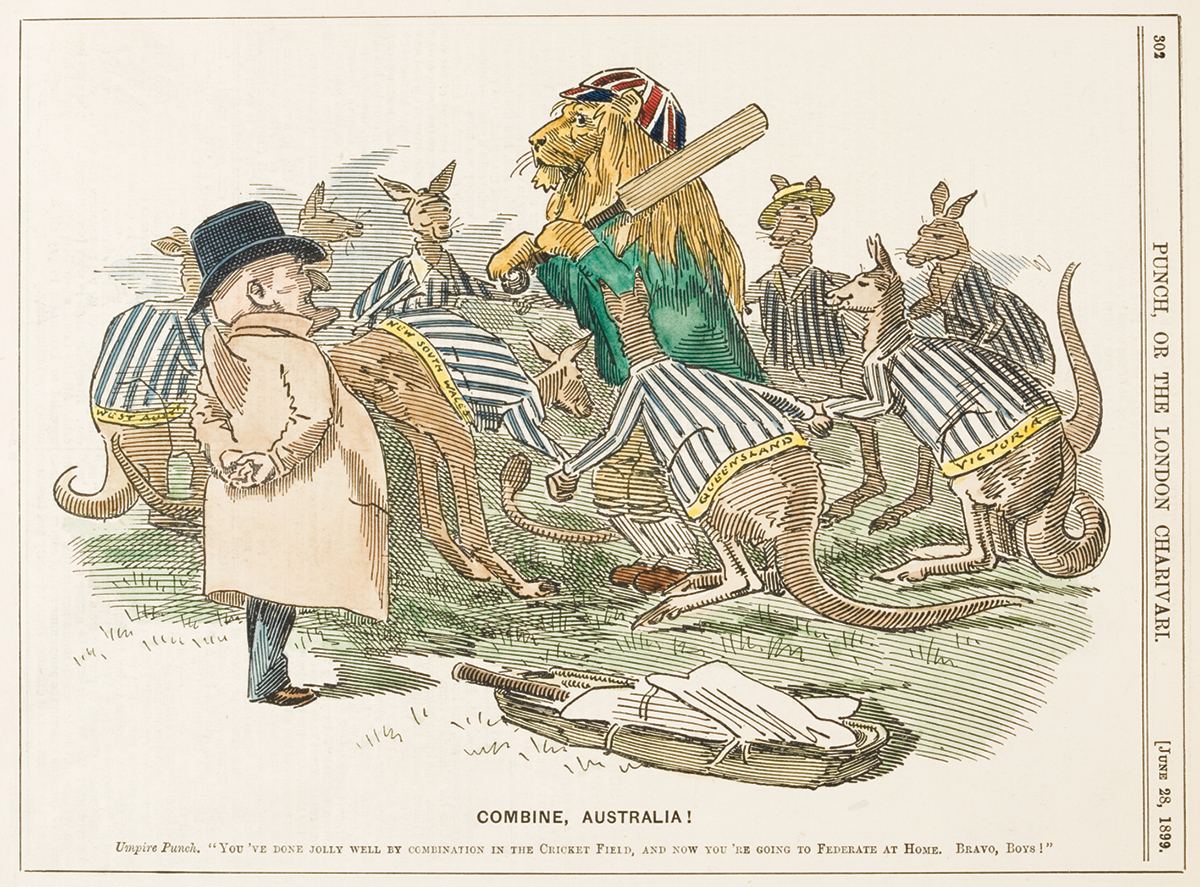 Punch, National Museum of Australia. Photo: Dragi Markovic
Description
In the centre of a ring of kangaroos stands a lion wearing a green jacket and carrying a cricket bat. His cap is printed with a Union Jack. The kangaroos wear blue and white stiped jackets with a yellow waist band. They are printed with 'New South Wales', 'Queensland' and 'Victoria'. An umpire watches on. Printed at the bottom is: 'Combine Aust! Umpire Punch: "You've done jolly well by combination in cricket field, and now you're going to federate at home. Bravo, boys!"'
Sporting union predated federation. In 1877 an intercolonial cricket team represented Australia in the first test match against England
The Federation process took a long time. Over 10 years there were several meetings

–

conventions

–

where representatives from the colonies debated Federation and drafted a constitution for the new country.
The Australian people who were eligible to vote agreed to the Australian Constitution in a series of referendums in 1898 and 1899. The British Parliament then agreed to the constitution by making it a law. This law came into effect on 1 January 1901 when Australia became a country.
Many people were involved in Federation movement. Federal leagues, clubs and societies were formed to push for Federation. Press reports of the conventions were eagerly read and helped build popular support for Federation.
Did you know?

On 1 January 1901, many Australians celebrated the creation of their new country with parades, fireworks and street decorations. In Sydney, 100 000 people watched the first national government being sworn in. This is the same number of people who watch an AFL or NRL grand final!