Parliament in pictures
This pack of 10 large posters and classroom guide is designed for teachers to introduce a unit of study about the Australian Parliament. The colourful and easy-to-understand posters are ideal for display in upper primary and secondary classrooms.
$20.00 (GST inclusive)
Postage included.
---
10 colourful posters covering the key topics of Australia's system of government and the Australian Parliament. The 25 page classroom guide provides extra information on each poster, activities and discussion questions.
---
Who is it for?
Upper primary and secondary teachers
Why should you order?
Parliament in pictures provides an eye-catching visual introduction to the key concepts of parliamentary education. The posters cover the following topics:
three levels of government
the Australian Parliament
the House of Representatives
the Senate
choosing members
choosing senators
forming government
law-making
separation of powers
the Australian Constitution
How can it be used?
The posters are designed to be displayed in the classroom. The classroom guide contains additional information teachers can use to further enhance the educational value of the posters. It includes activities to stimulate classroom discussion and extend learning, as well as links to more resources.
How much?
Parliament in pictures is $20 (GST inclusive) per pack.
Sample Parliament in pictures posters.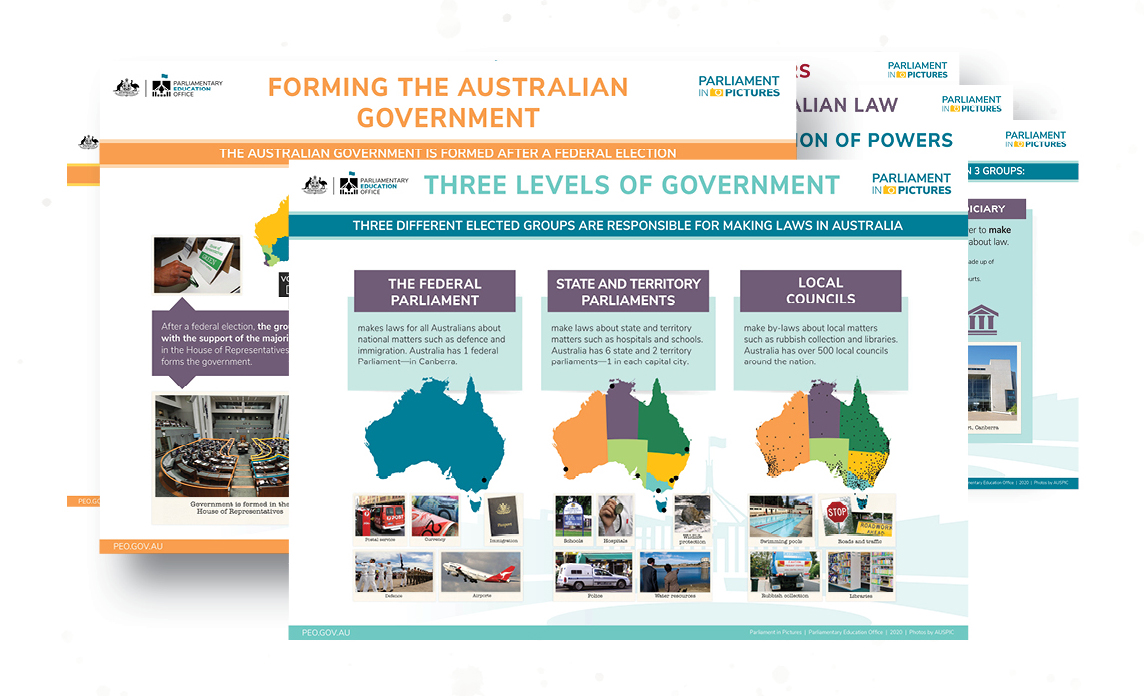 Parliamentary Education Office (peo.gov.au)
Description
This image shows the Forming the Australian Government and three levels of government posters from the Parliamentary Education Office's Parliament in pictures resource.