Our commitment to child safety
The Parliamentary Education Office is committed to providing a safe and respectful environment for young people and children. Find out how we are doing this and how you can report a complaint.
The Parliamentary Education Office is committed to creating a safe and respectful environment for young people and children. Our commitment includes implementing the Commonwealth Child Safety Framework, including the National Principles for Child Safe Organisations. Our Child Safe Framework compliance statement can be found on the APH website.
Statement of commitment
The PEO is committed to promoting and maintaining a culture that does not permit or tolerate child harm or abuse. We do this by developing and maintaining behaviours and practices that are safe for all children.

Our focus is the safety and wellbeing of children. We support and respect all children and are committed to the cultural safety of children from diverse backgrounds.

We take all complaints seriously and ensure that individuals who make complaints or reports in good faith are protected.
Our child safe statement of commitment applies to all PEO staff.

For more information about our commitment to child wellbeing and safety, please contact us.
Reporting and responding to complaints/feedback
The PEO welcomes all feedback from program participants and is committed to listening to, protecting, and taking children and young people seriously.
Let us know your feedback or complaint:
Connect with the PEO through the Contact us page
Tell an adult who will speak to the PEO
Speak to a PEO or Parliament House staff member
The PEO will always act in a respectful, fair and timely way when responding to feedback and complaints, and is committed to preserving the privacy of all individuals. Below is a summary of our complaints handling process.
PEO complaint handling process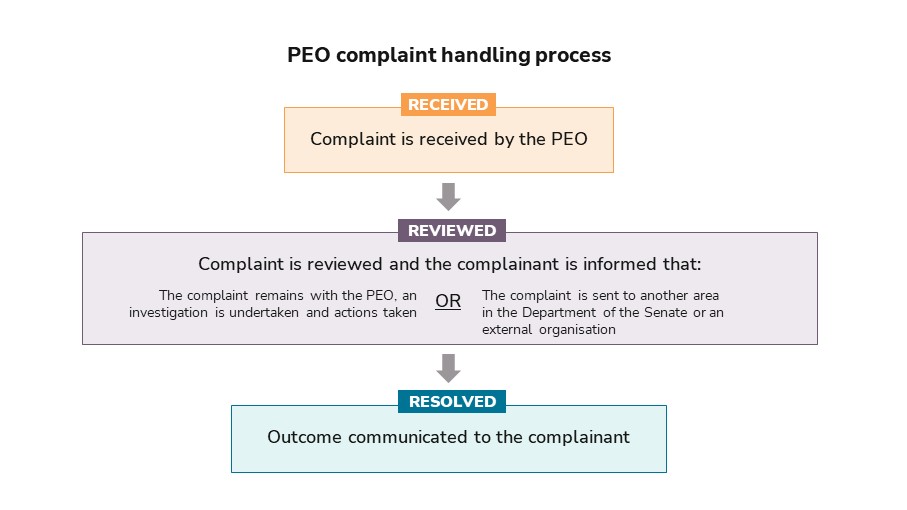 Parliamentary Education Office (peo.gov.au)
Description
PEO complaint handling process
Recieved: complaint is received by the PEO
Reviewed: complaint is reivewed and the complainant is informed that:

The complaint remains with the PEO, an investigation is undertakend and actions taken; or
The compaint is sent to another area in the Department of the Senate or an external organisation

Resolved: outcome communicated to the complainant
Copyright information
This work is licensed under a Creative Commons Attribution-NonCommercial-NoDerivs 3.0 Unported License.
You are free to share – to copy, distribute and transmit the work.
Attribution – you must attribute the work in the manner specified by the author or licensor (but not in any way that suggests that they endorse you or your use of the work).
Non-commercial – you may not use this work for commercial purposes.
No derivative works – you may not alter, transform, or build upon this work.
Waiver – any of the above conditions can be waived if you get permission from the copyright holder.