Is there an established list of portfolios for each level of government? What are they? How do they get allocated?
Role of frontbenchers in the Australian Parliament.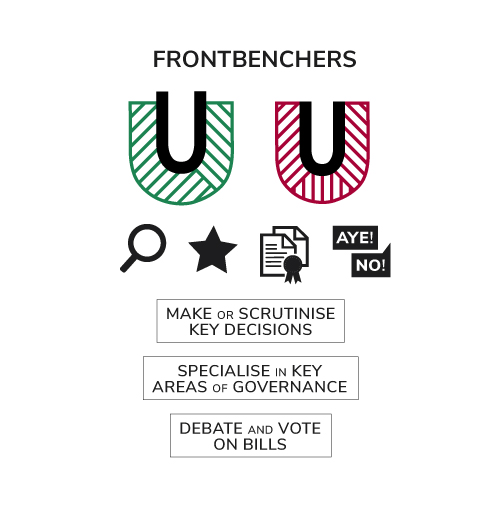 Parliamentary Education Office (peo.gov.au)
Description
This graphic shows that ministers and shadow ministers are also known as 'frontbenchers' because they sit on the front bench of the chamber. Their roles include: making and scrutinising key decisions; specialising in key areas of governance; and debating and voting on bills.
This work is licensed under a Creative Commons Attribution-NonCommercial-NoDerivs 3.0 Unported License.
You are free to share – to copy, distribute and transmit the work.
Attribution – you must attribute the work in the manner specified by the author or licensor (but not in any way that suggests that they endorse you or your use of the work).
Non-commercial – you may not use this work for commercial purposes.
No derivative works – you may not alter, transform, or build upon this work.
Waiver – any of the above conditions can be waived if you get permission from the copyright holder.
Interesting question Elisa. A minister is a member of the Australian Government who has been given an area of responsibility for how Australia is run.
There can be no more than 30 ministers at one time and there is no set list of areas of portfolios – ministerial responsibilities. Some portfolios, such as Treasurer and Minister for Defence, usually stay the same. Other portfolios are added, removed, combined or split by each new government. For example, at different times there has been a Minister for Regional Health, Regional Communications and Local Government, a Minister for Health and a Minister for Communications.
The Prime Minister decides which members of the government team should become ministers. The Prime Minister chooses experienced and knowledgeable government members to be ministers, and expects them to work together on behalf of the government.
You can find a current list of ministers in the Australian Government here.
For information about state and territory ministers, visit the websites of the state and territory governments.