Why does there have to be 76 senators in the Senate?
Why? Because it's in the Australian Constitution! Although, it's not quite that simple …
Section 24 of the Constitution says that the number of members of the House of Representatives 'shall be, as nearly as practicable, twice the number of the senators'. This mathematical relationship between the size of membership of both houses is often referred to as the 'nexus'.
This part of the Constitution is trying to achieve 2 things. Firstly, it seeks a balance between the Senate and House in representing Australians; that is, the proportions will always be about the same. Similarly, it also places limits on the House of Representatives dominating the Senate if a joint sitting of Parliament is held following a double dissolution election.
Section 24 also explains that each state shall elect members to the House of Representatives based on that state's population. Since Federation, Australia's population has grown a lot and therefore so have the number of elected representatives. When the number of members increases, this has to be balanced with the number of senators. Currently there are 76 senators – 12 for each state and 2 for each territory – and there are 151 members in the House of Representatives.
The Senate from behind the President of the Senate's chair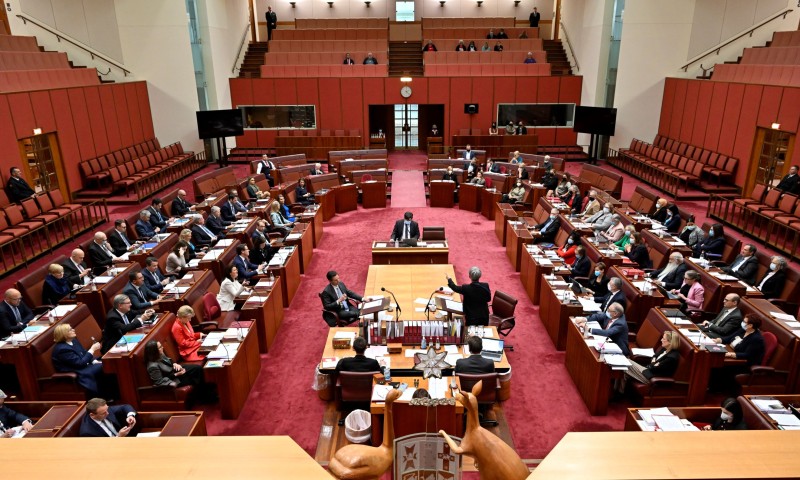 DPS Auspic
Description
This image is of a large room with red furnishings. The seats are arranged in a horse-shoe shape around a large central table. There are people sitting in the seats and papers on the desks.
Permission should be sought from DPS AUSPIC for third-party or commercial uses of this image. To contact DPS AUSPIC email: auspic@aph.gov.au or phone: 02 6277 3342.