Why did Australia decide to have a parliament with a government and an opposition opposition instead of a co-operative form of Parliament?
Australia became a nation on 1 January 1901 when the 6 British colonies—New South Wales, Victoria, Queensland, South Australia and Western Australia and Tasmania—decided to unite to become a new country, Australia. The Australian Constitution, which outlines our form of government, was drafted at a series of conventions – meetings – attended by representatives of the colonies. In deciding Australia's system of government, the drafters of the Constitution were influenced by the Westminster tradition of the British Parliament.
In the Westminster tradition the government is scrutinised – closely examined – by the opposition. In the Australian Parliament the party or coalition of parties with the support of the majority of members elected to the House of Representatives becomes the government. The opposition is the largest party or coalition of parties that does not have the support of the majority of members in the House of Representatives. There are also independent and minor party members in the Australian Parliament.
Whilst the opposition scrutinises the government, they do not always disagree with the government. The opposition can decide whether to support, oppose or suggest changes to the government's ideas and bills. The majority of bills that the government brings to the Parliament are supported by the opposition.
The Senate from behind the President of the Senate's chair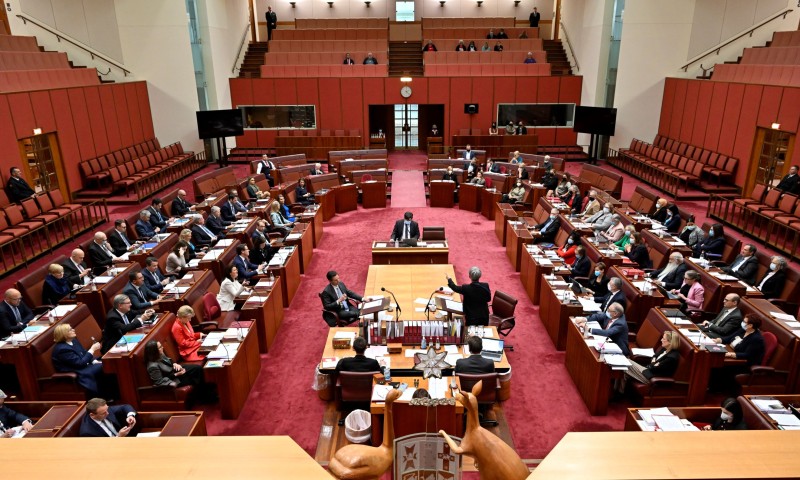 DPS Auspic
Description
This image is of a large room with red furnishings. The seats are arranged in a horse-shoe shape around a large central table. There are people sitting in the seats and papers on the desks.
Permission should be sought from DPS AUSPIC for third-party or commercial uses of this image. To contact DPS AUSPIC email: auspic@aph.gov.au or phone: 02 6277 3342.