What is judicial review?
Judicial review is when a court is asked to decide on the lawfulness of a decision made by the Australian Government or a government department. It plays an important role in Australia's system of government by ensuring the accountability of the Government.
A person seeking to obtain judicial review of an Australian Government action must sue the Government in the High Court of Australia or the Federal Court of Australia.
The court will then decide if the Government decision was legal and if the Government had the power to make the decision. The court will also check that the action was made fairly, without bias and all relevant information was taken into account.
If the court finds that a Government decision was unlawful, the decision will be overturned and the Government can be forced to re-make the decision according to the law.
Separation of powers in Australia.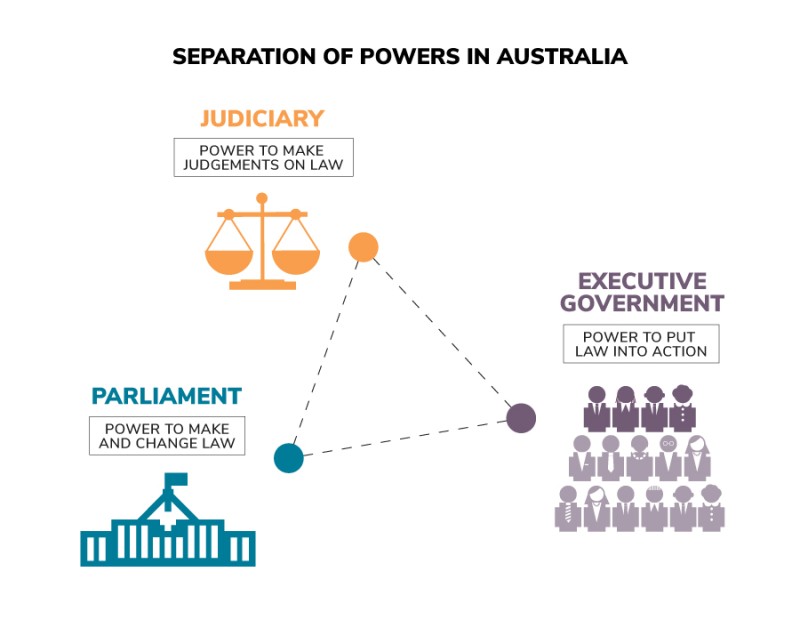 Parliamentary Education Office (peo.gov.au)
Description
This diagram illustrates the separation of powers in the Australian system of government. The Parliament (represented by an icon of Australian Parliament House) has the power to make and change law. The Executive (represented by a group of people) has the power to put law into action. The Judiciary (represented by an icon of a scale) has the power to make judgements on law. The three groups—Parliament, Executive and Judiciary—are connected.
This work is licensed under a Creative Commons Attribution-NonCommercial-NoDerivs 3.0 Unported License.
You are free to share – to copy, distribute and transmit the work.
Attribution – you must attribute the work in the manner specified by the author or licensor (but not in any way that suggests that they endorse you or your use of the work).
Non-commercial – you may not use this work for commercial purposes.
No derivative works – you may not alter, transform, or build upon this work.
Waiver – any of the above conditions can be waived if you get permission from the copyright holder.