What is an example of the separation of powers in Australia?
The principle of the separation of powers proposes that the power to govern be divided between different bodies to avoid any one branch having all the power. Power is divided between a law-making body (Parliament), an executive body (Executive) and courts (Judiciary).
The Australian Constitution divides the power to govern Australia between the Australian Parliament (that makes laws for all Australians), the Prime Minister and ministers (who put the law into action), and the High Court of Australia and other federal courts (that make judgements on the law).
An example of the principle of the separation of powers at work at the national level is how laws are made and tested in the courts. The Executive (Australian Government) comes up with the idea for a bill – proposed law – which it introduces into the Australian Parliament. The Legislative (the Australian Parliament) then debates the bill and decides if the bill should become a law. If the law is the subject of a court case, the Judiciary (the High Court or another federal court) will make a judgement on the law or whether it has been followed.
Separation of powers in Australia.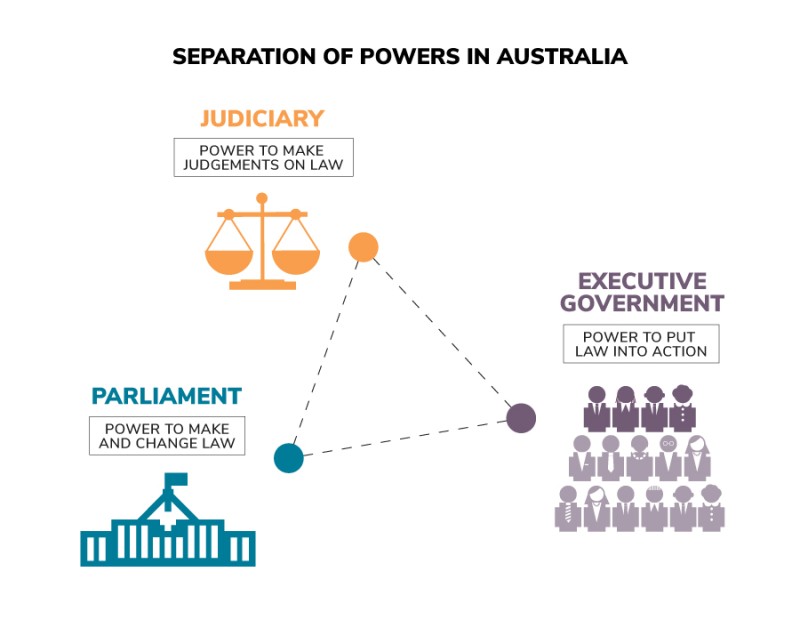 Parliamentary Education Office (peo.gov.au)
Description
This diagram illustrates the separation of powers in the Australian system of government. The Parliament (represented by an icon of Australian Parliament House) has the power to make and change law. The Executive (represented by a group of people) has the power to put law into action. The Judiciary (represented by an icon of a scale) has the power to make judgements on law. The three groups—Parliament, Executive and Judiciary—are connected.
This work is licensed under a Creative Commons Attribution-NonCommercial-NoDerivs 3.0 Unported License.
You are free to share – to copy, distribute and transmit the work.
Attribution – you must attribute the work in the manner specified by the author or licensor (but not in any way that suggests that they endorse you or your use of the work).
Non-commercial – you may not use this work for commercial purposes.
No derivative works – you may not alter, transform, or build upon this work.
Waiver – any of the above conditions can be waived if you get permission from the copyright holder.