i need to name two laws for each level of government to do with childcare.
I can only help you with federal laws but each state parliament has a register of laws which you will be able to search and I suggest contacting your local council for information about their by-laws.
The place to look for existing federal laws is the Federal Register of Legislation. Government departments with responsibility for administering these laws also have information on their websites, for example the Australian Children's Education and Care Quality Authority.
You can also search for bills currently being debated by the Australian Parliament on the Australian Parliament House website.
Three levels of government in Australia.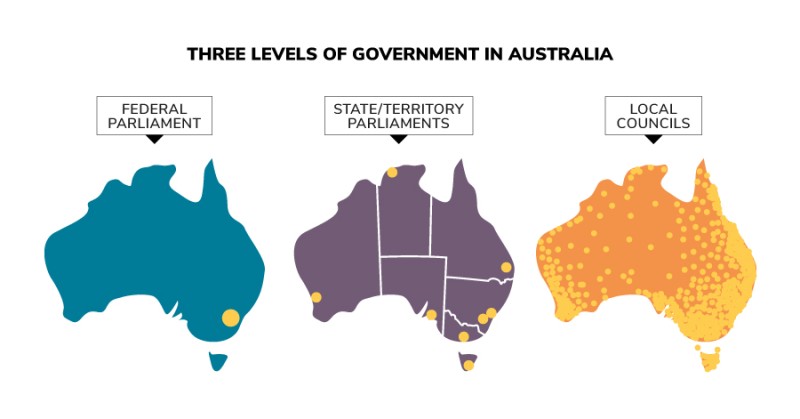 Parliamentary Education Office (peo.gov.au)
Description
This diagram illustrates the three levels of government—the law-making bodies in Australia with three maps of Australia: Local councils (located around Australia in each local council division); State/territory parliaments (located in the capital cities of each of the 6 states and 2 territories); and federal Parliament (located in Canberra, the nation's capital).
This work is licensed under a Creative Commons Attribution-NonCommercial-NoDerivs 3.0 Unported License.
You are free to share – to copy, distribute and transmit the work.
Attribution – you must attribute the work in the manner specified by the author or licensor (but not in any way that suggests that they endorse you or your use of the work).
Non-commercial – you may not use this work for commercial purposes.
No derivative works – you may not alter, transform, or build upon this work.
Waiver – any of the above conditions can be waived if you get permission from the copyright holder.