How can we have 3 levels of government if councils are not mentioned in the Australian Constitution?
The Australian Constitution established a federal system of government where both federal and state levels of government are recognised. The Constitution makes no mention of a local level of government.
There was a proposal to change the Constitution to formally recognise local government in 1988, and the question was presented to Australian electors in a referendum. Voters rejected with every state and territory voting 'No'. Without the necessary majorities, the Constitution was not changed.
However, when an aspect of government is not mentioned in the Australian Constitution it does not necessarily make it unconstitutional. This is the case with local government. Each Australian state has its own constitution and is able to make its own laws. While the states' powers vary across Australia, each state has a Local Government Act that provides the rules for the creation and operation of councils in that state. In general, these Acts cover how councils are elected and their power to make and enforce local laws, known as by-laws. In this way, we have a third level of government in Australia.
The law-making powers of local government.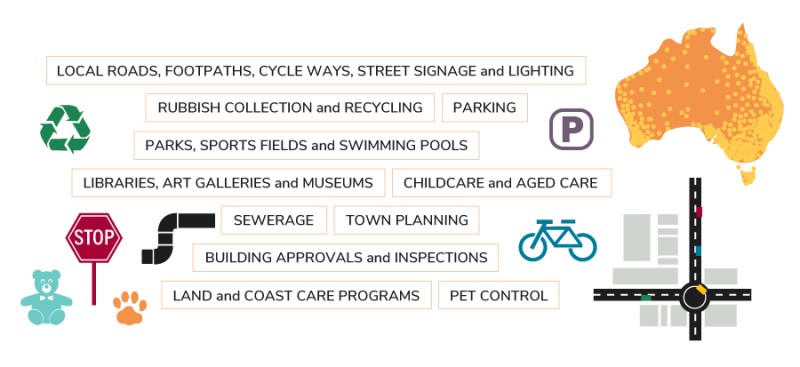 Parliamentary Education Office (peo.gov.au)
Description
The law-making powers of local governments include:
Local roads, footpaths, cycle ways, street signage and lighting
Rubbish collection and recycling
Parking
Parks, sports fields and swimming pools
Libraries, art galleries and museums
Childcare and aged care
Sewerage
Town planning
Building approvals and inspections
Land and coast care programs
Pet control
This work is licensed under a Creative Commons Attribution-NonCommercial-NoDerivs 3.0 Unported License.
You are free to share – to copy, distribute and transmit the work.
Attribution – you must attribute the work in the manner specified by the author or licensor (but not in any way that suggests that they endorse you or your use of the work).
Non-commercial – you may not use this work for commercial purposes.
No derivative works – you may not alter, transform, or build upon this work.
Waiver – any of the above conditions can be waived if you get permission from the copyright holder.