How can I find a law that has been passed by the Australian Parliament?
Parts of a bill.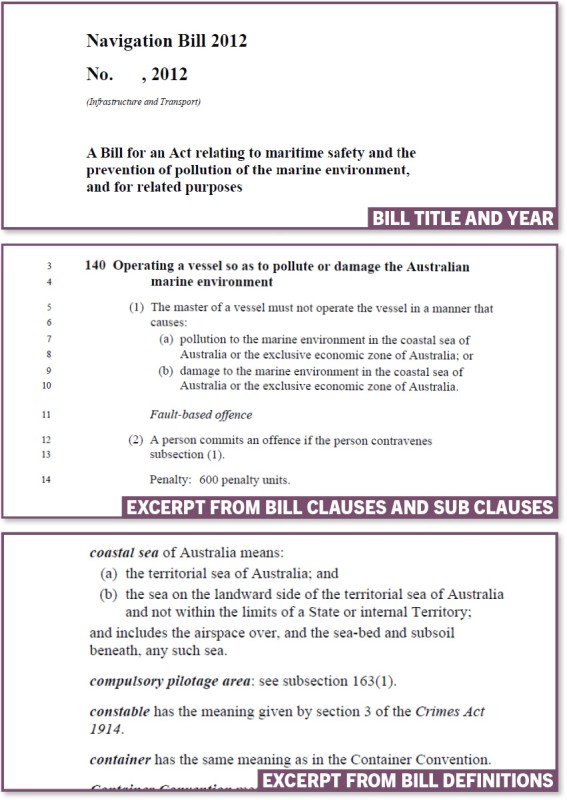 Parliamentary Education Office (peo.gov.au)
Description
This image shows the different sections of a bill. The top third shows the bill title and year. The middle third shows an excerpt from bill clauses and sub-clauses. The bottom third shows excerpts from bill definitions.
This work is licensed under a Creative Commons Attribution-NonCommercial-NoDerivs 3.0 Unported License.
You are free to share – to copy, distribute and transmit the work.
Attribution – you must attribute the work in the manner specified by the author or licensor (but not in any way that suggests that they endorse you or your use of the work).
Non-commercial – you may not use this work for commercial purposes.
No derivative works – you may not alter, transform, or build upon this work.
Waiver – any of the above conditions can be waived if you get permission from the copyright holder.
The Parliament House website lists all the bills – proposals for new laws or changes to existing ones – that have been introduced into the Australian Parliament since 1996. By searching this webpage you will be able to find out when the bill was introduced, information about the bill and when it received Royal Assent to become law.
All Australian laws are also listed on the Federal Register of Legislation. You will need to search by the title of a law or a date. Note: if the Act does not say when the law is to commence – come into effect – , it will commence 28 days after it received Assent.