Does Quick and Garran's annotated Constitution have anything to do with the Constitution? Does the government have to refer to it to understand the Constitution?
In 1901 Sir John Quick and Robert Garran published Annotated Constitution of the Australian Commonwealth. This authoritative work is regularly referred to by High Court of Australia judges and constitutional experts when interpreting the Australian Constitution.
Both Quick and Garran participated in the Federation conventions in the 1890s and were involved in the drafting of the Constitution. Their book gives an historical introduction to the Constitution, its original text (before it was changed by referendums) and an extensive commentary on the political, historical and legal aspects of the Constitution.
It is the role of the High Court to interpret the Constitution. They do this by hearing cases. The judges use the arguments of the lawyers arguing the case, decisions made in previous cases and a variety of written sources—including Quick and Garran's Annotated Constitution—to make their judgements.
The Australian Government receives legal advice from the Attorney-General, who is a minister and member of Parliament, the Australian Government Solicitor and other legal professionals.
Members of the Australasian Federation Convention, 1890.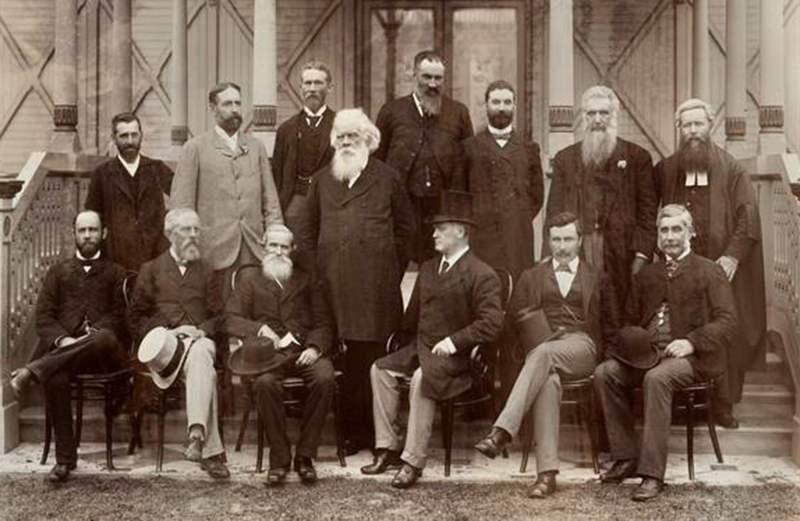 National Library of Australia, AN14292110
Description
A sepia toned photograph of a group of men in formal attire in front of a portico of a building. Six men (including Edmund Barton, fourth from left in the top hat) are seated on chairs. Eight men stand behind. Henry Parkes is fourth from left and Alfred Deakin is sixth from left.
You may save or print this image for research and study. If you wish to use it for any other purposes, you must declare your Intention to Publish.