Can any citizen or group of citizens overthrow the government if it is considered "tyrannical" and is this part of our Constitution?
Thanks for your question. Hypothetically it is possible that a group of people could 'overthrow' the Australian Government; however it is important to note that Australia's political system since Federation has always been characterised by stability. This stability would make a military coup style of take-over—as has occurred in other countries—highly unlikely.
The Australian Constitution makes no reference to 'overthrowing governments' or 'tyrannical' behaviour.
The Constitution outlines how the Australian Government is formed and how members of parliament are elected by the Australian people. There are many ways the Australian Government can be held accountable for their actions. For example, the Opposition scrutinises – closely examines – the work of the government in Parliament. The media also plays an important role in holding the Government to account. Ultimately, the fate of the Australian Government is determined by the Australian people when they cast their vote at a federal election.
A protest at Australian Parliament House.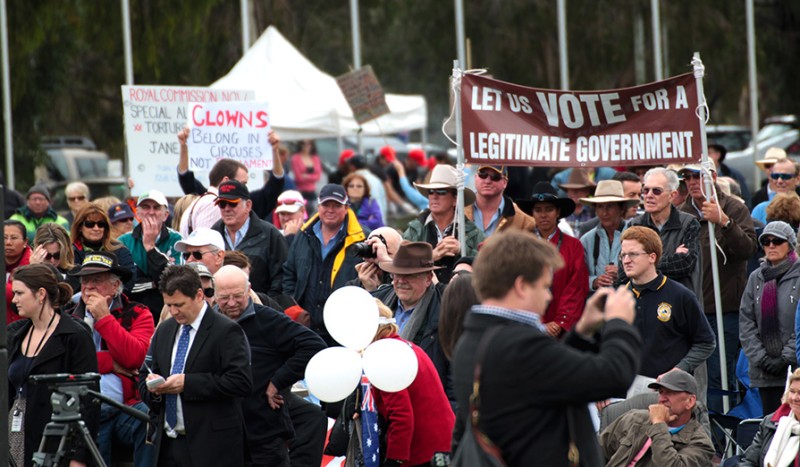 Parliamentary Education Office (peo.gov.au)
Description
This photo shows a large group of people standing outside, with tall trees in the background. Some people are holding signs, including one that says 'let us vote for a legitimate government'. There is a camera tripod in the foreground and some people are also using cameras.
This work is licensed under a Creative Commons Attribution-NonCommercial-NoDerivs 3.0 Unported License.
You are free to share – to copy, distribute and transmit the work.
Attribution – you must attribute the work in the manner specified by the author or licensor (but not in any way that suggests that they endorse you or your use of the work).
Non-commercial – you may not use this work for commercial purposes.
No derivative works – you may not alter, transform, or build upon this work.
Waiver – any of the above conditions can be waived if you get permission from the copyright holder.