Getting involved in Parliament
This fact sheet explores ways Australians can get involved in the Australian Parliament. It includes information on contacting members of parliament, the work of committees, protesting and observing the Parliament.
The Australian Parliament represents the Australian people, and makes laws and important decisions on their behalf. The Parliament is interested in the opinions of Australians, who have a right to be involved in this decision-making. There are many ways individuals and organisations can have their say about the actions and decisions of Parliament.
Voting
At least every 3 years, Australians vote at a federal election to elect people to represent them in Parliament. This is the most direct way Australians are involved in their Parliament. If the people of Australia do not like the actions of a government, they have a chance to elect new representatives in both the Senate and House of Representatives.
Australians can enrol to vote once they turn 16, although they can't vote until they turn 18. With the right to vote comes the responsibility to make an informed decision. You can do that by learning about Parliament and taking an interest in candidates, including your current representatives in Parliament. You can analyse their decisions and policies and decide if you agree with them.
Contact members of parliament
Australians can phone, write to or email members of parliament at any time. You can contact your member of the House of Representatives or senators about things that are important to you. If you have a view about a particular subject (such as health, education or the environment) you can contact the government minister responsible for that area. Phone numbers, postal and email addresses of all members of parliament are available on the Parliament House website.
Petitions
Members of the public can raise matters of importance to them and influence decisions made in Parliament by starting or signing a petition. A petition is a request by a group of citizens for Parliament to take note of and perhaps solve a particular problem. It is the oldest way individuals or groups can ask Parliament to take action on an issue. The petition contains a list of signatures of people who support that request. It is then formally presented to Parliament and entered into the parliamentary records.
Committees
Committees are another way Australians can directly involve themselves in the decisions of Parliament. A committee is usually made up of 6 to 10 members of parliament who investigate a matter Parliament considers important. This may be the subject of a bill – proposed law – or a particular issue. Committees investigate community attitudes by inviting the public, organisations and experts to give their opinion on the bill or issue.
Any member of the public can write to the committee to express their views and provide information which may be helpful to the committee. After considering these written submissions, the committee may choose to hear further from members of the public by asking them to speak to them about information they have already given. The committee will then write a report which is presented to Parliament. The report may recommend the government take some course of action based on their findings.
Public meetings and protests
Australians who are concerned about an issue can organise public meetings or protests about that issue. They may invite members of parliament to attend their public meetings to hear what the people have to say and answer questions from the public. Media coverage of these meetings and protests may then put pressure on the Parliament to act on the issue. People can also express their opinion by participating in online forums and discussions, using social media, writing a letter to the newspaper or calling up talk-back radio.
Observing Parliament
As well as these direct means for Australians to engage in Parliament, there are many ways for the public to observe and keep up to date with Parliament. The work of the Senate and House of Representatives is always open for the public to watch, as is much of the work of committees. You can watch Parliament in action on television or via the internet. The press gallery in Parliament House reports on the work of the Parliament through print and broadcast media. Many members of parliament also use social media to directly communicate to the public about their work.
A Senate committee hearing at Balgo in the Kimberley, Western Australia.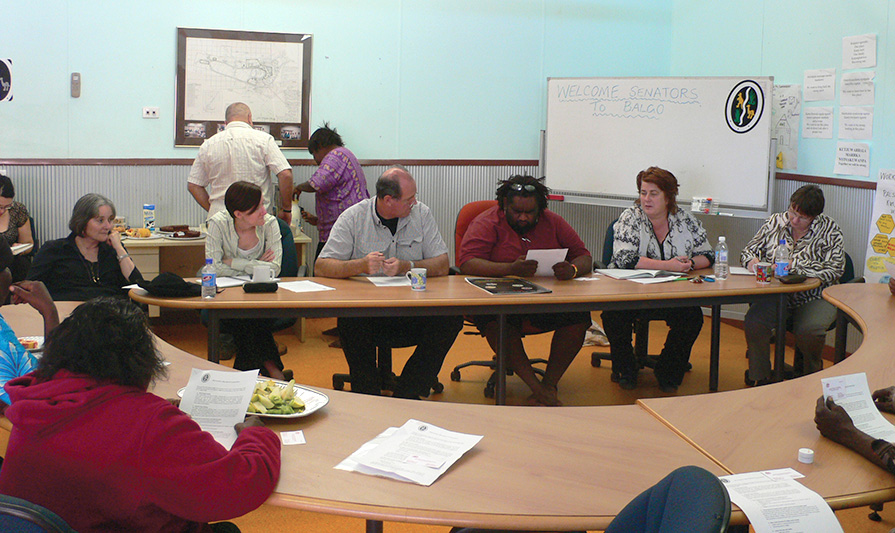 Senate Procedure Office
Description
This photo shows a group of people sitting at tables facing each other with papers in front of them. One person appears to be reading aloud from a paper and others have their heads turned towards this person.
People voting in a federal election.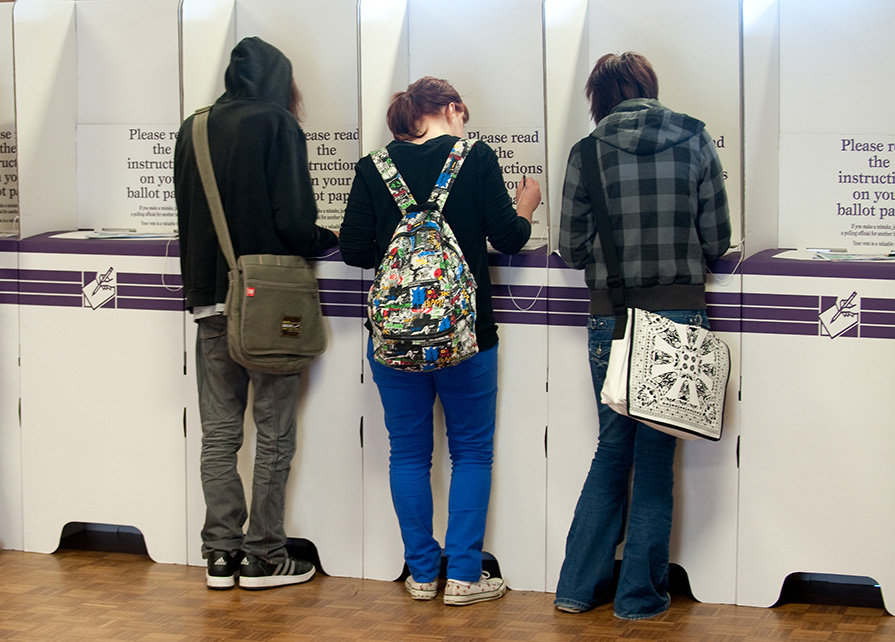 Australian Electoral Commission
Description
This photo shows large, purple and white cardboard voting booths in a row. Each booth is screened off from the neighbouring booths. Three people are standing at the booths with their backs to the camera. They are looking down and appear to be writing at the legde of their booths.
Copyright information
Permission should be sought from the Australian Electoral Commission (AEC) for third-party or commercial uses of this image. To contact the AEC email: media@aec.gov.au or phone: 13 23 26.
Petition presented in the Senate calling for an end to live animal exports.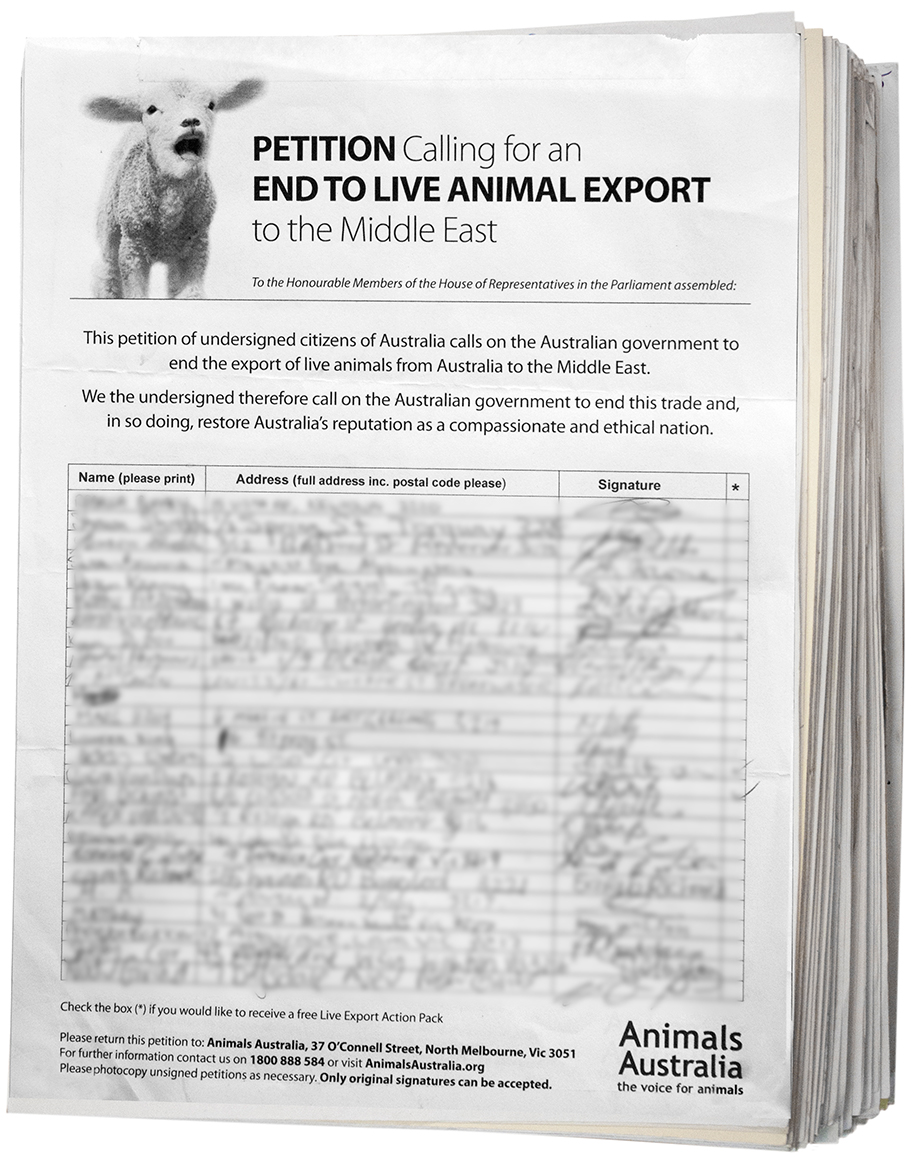 Department of the Senate
Description
This image focusses on the front page of a large number of pages. In the top left of the page is a photo of a bleating lamb. Next to this are the words 'PETITION Calling for END TO LIVE ANIMAL EXPORT to the Middle East'. Underneath, it says:
'to the Honourable Members of the House of Representative in the Parliament assembled. This petition of undersigned citizens of Australia calls on the Australian government to end the export of live animals from Australia to the Middle East. We the undersigned therefore call on the Australian government to end this trade and in doing, restore Australia's reputation as a compassionate and ethical nation.'
Below this is a table with the headings 'Name (please print)', 'Address (full address inc. postal code please)' and 'Signature'. The table is full of handwritten writing which has been blurred out for the photo. The bottom right of the page is 'Animals Australia, the voice for animals'.
A protest at Australian Parliament House.
Parliamentary Education Office (peo.gov.au)
Description
This photo shows a large group of people standing outside, with tall trees in the background. Some people are holding signs, including one that says 'let us vote for a legitimate government'. There is a camera tripod in the foreground and some people are also using cameras.
Copyright information
This work is licensed under a Creative Commons Attribution-NonCommercial-NoDerivs 3.0 Unported License.
You are free to share – to copy, distribute and transmit the work.
Attribution – you must attribute the work in the manner specified by the author or licensor (but not in any way that suggests that they endorse you or your use of the work).
Non-commercial – you may not use this work for commercial purposes.
No derivative works – you may not alter, transform, or build upon this work.
Waiver – any of the above conditions can be waived if you get permission from the copyright holder.